Experience Canon's Latest Cinematic & Broadcast Solutions at Broadcast Asia 2023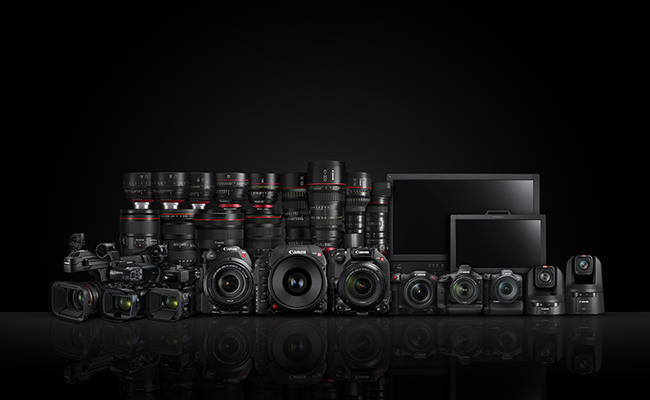 SINGAPORE, 1 June 2023 — Canon today announced that we will be showcasing our latest innovations at Broadcast Asia 2023, which will be held from 7 to 9 June 2023 at the Singapore Expo.

Canon's booth at the event will feature a wide range of our professional broadcast products including 4K cinematic cameras and camcorders, broadcast and cinematic lenses such as the new FLEX ZOOM LENS (the CN-E14-35mm T1.7 L S wide-angle zoom lens and the CN-E31.5-95mm T1.7 L S telephoto zoom lens announced in April 2023), reference displays, PTZ network cameras, network solutions, and the latest product firmware updates. For the first time in Asia1, the MS-500 will also be displayed as a reference exhibit at the Canon booth. MS-500 is the world's first2 ultra-high-sensitivity interchangeable-lens camera (ILC) equipped with a 1.0-inch Single Photon Avalanche Diode (SPAD) sensor featuring the world's highest3 pixel count of 3.2 megapixels4. There will also be interactive product displays, live demonstrations, and a team of experts to share more about our products and solutions.

Through Broadcast Asia 2023, we would like to showcase our cutting-edge technology and demonstrate our commitment to the broadcast and production industry. This event brings together production and rental houses, media companies, and motion film industry partners, all of whom will have the opportunity to experience Canon's latest products and solutions.

For more information about Canon's presence at Broadcast Asia 2023, visit our website or come by our booth (6D-301) during the event.


About Canon Singapore Pte. Ltd.
Canon is a global leader in photographic and digital imaging solutions. Canon Singapore Pte. Ltd. is the headquarters for South & Southeast Asia driving sales, marketing and service strategies. Besides handling the domestic market, the company covers 22 other countries and regions including subsidiaries in India, Malaysia, Thailand and Vietnam. The parent company Canon Inc. has a global network of more than 300 companies and employs about 180,000 people worldwide. Canon is guided by its kyosei philosophy that focuses on living and working together for the common good.

More information is available at https://sg.canon.
---
1 Covering Singapore, Malaysia, Thailand, Philippines, Hong Kong, Taiwan, India, Vietnam.
2 Among colour cameras. As of April 2, 2023. Based on Canon research.
3 Among SPAD sensors for imaging use. As of April 2, 2023. Based on Canon research.
4 Total pixel count: 3.2 million pixels. Effective pixel count: 2.1 million pixels.