Canon Singapore and ITE Organise Photography Event to Inspire Youths and Provide Platform to Showcase Skills
The Canon Youth Photography Challenge will take place on 11 November 2023,
jointly organised by Institute of Technical Institution (ITE) and Canon Singapore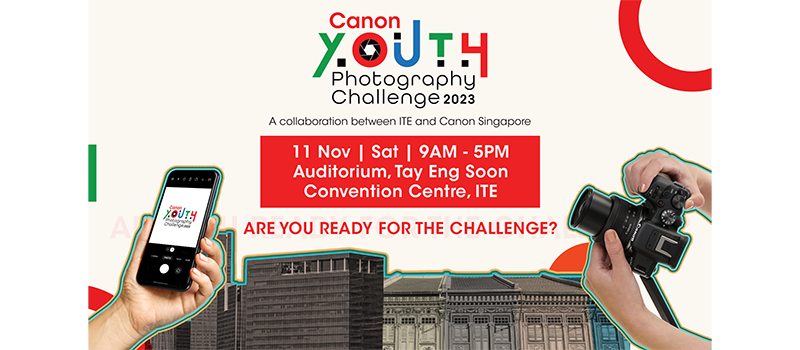 SINGAPORE, 6 November 2023 — Canon Singapore Pte. Ltd. (Canon Singapore) and ITE jointly announced the launch of Canon Youth Photography Challenge (CYPC), to spark interest for photography among youths. The event will take place on 11 November 2023, from 9am – 5pm, at the Tay Eng Soon Convention Centre. Registration is free and open to youths between 13 – 25 years old, with their own digital camera from any brand.
At the event, attendees will get to immerse themselves in a full day of activities. Starting with hands-on workshops led by seasoned photographers, the event culminates in a photography competition around three mystery themes, a chance for participants to put their newfound skills to the test.
"ITE is delighted to collaborate with Canon in this shared mission of unearthing talent and nurturing the creative aspirations of our youth in the field of photography. The Canon Youth Photography Challenge is a gateway to inspiration, connecting participants with experienced photographers who generously impart their skills and expertise. It is also a thrilling competition that encourages youth to push their artistic boundaries. We hope to kindle within each participant a passion for photography, and motivate them to not only further develop their skills but also to explore the possibilities this art form offers," said Chong Leong Fatt, Deputy Principal, ITE College Central.
"Photography has the power to capture the world's beauty and tell compelling stories. At Canon, we believe in nurturing young talent and inspiring the next generation of photographers. We seek to provide platforms for budding photographers to showcase their creativity and passion. Through this photo competition, we aim to ignite their imaginations, encourage artistic expression, and foster a deeper connection with the world around them." said Edwin Teoh, Head of Marketing, Singapore Operations, Canon Singapore.
There will be three themes announced during the event and participants will be given three hours to capture their best shots. With contest submission via Instagram, all participants are required to have an Instagram account, which is set to public. To participate, one can simply upload the image on Instagram, based on the theme and tag @canonsingapore with the relevant hashtag.
With more than $6,000 worth of cash prizes to be won, the winner of each theme will be awarded with the following. Results will be announced on the same day.
Grand winner: $1,000
1st Runner up: $500
2nd Runner up: $300
Additional mobile phone category based on any of the themes above:
1st – Powershot SX740 HS (worth $509)
2nd – Selphy CP1500 (worth $255)
3rd – Selphy QX10 (worth $228)
On event day, there will be photography sessions by guest speakers, including a special segment on Video Content Creation with Annette Lee, a renowned, multi-talented content creator. The hands-on workshops will cover topics on light painting, street photography and reels for social media. Get ready to be inspired by these experts, pick up some valuable tips and tricks, and be immersed in the world of photography at CYPC 2023.

About the Institute of Technical Education
The Institute of Technical Education (ITE) was established as a post-secondary institution in 1992, under the Ministry of Education. ITE is a principal provider of career and technical education and a key developer of national skills certification and standards skilling Singapore for the future economy. It offers three key programmes - (1) Pre-Employment Training for youths after secondary education (2) Continuing Education and Training for adult learners and (3) Workplace Learning and Work-Study Programmes with employers. Under its 'One ITE System, Three Colleges' Governance Model, ITE has three Colleges - ITE College Central, ITE College East and ITE College West.

For more information, please visit our website at https://www.ite.edu.sg.

About Canon Singapore Pte. Ltd.
Canon is a global leader in photographic and digital imaging solutions. Canon Singapore Pte. Ltd. is the headquarters for South & Southeast Asia driving sales, marketing and service strategies. Besides handling the domestic market, the company covers 22 other countries and regions including subsidiaries in India, Malaysia, Thailand and Vietnam. The parent company Canon Inc. has a global network of more than 300 companies and employs about 180,000 people worldwide. Canon is guided by its kyosei philosophy that focuses on living and working together for the common good.

More information is available at https://sg.canon.