Canon Professional Services (CPS) Supported the 19th Asian Games throughout the Event
SINGAPORE, 27 October 2023 — At the opening of Hangzhou 19th Asian Games, a team of 43-member Canon Professional Services (CPS) team arrived at the Asian Games Main Media Centre (MMC) in Hangzhou to provide professional services for the Asian Games. This included loaning, repairing, firmware updating, maintenance, cleaning and other services for Canon cameras and lenses, which was available for the registered photographers from 23 September to 8 October, covering the entire Asian Games event.

As an official sponsor of the Hangzhou Asian Games, Canon has provided a wide range of support, including image input and output equipment, services and solutions. CPS played an important part to ensure that images of the Games could be broadcasted around the world in a timely, clear and accurate manner, and empowered photojournalists to better fulfil their mission of reporting on sports events.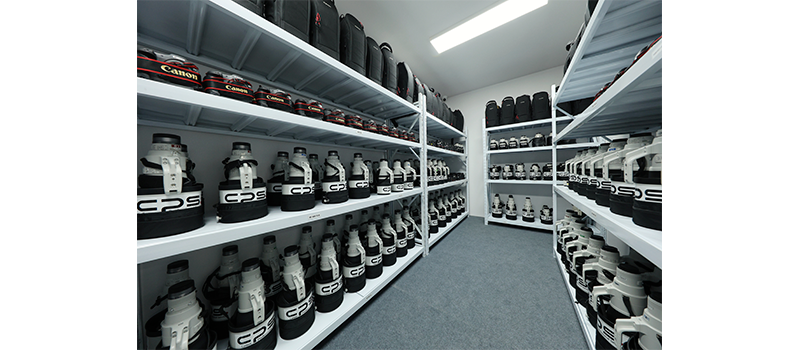 Professional Team in Full Swing
The Hangzhou 19th Asian Games, as a large-scale event in Asia, welcomed journalists and photographers from various Asian countries and regions. Hence, CPS provided services in three languages, and the service ran from 8:00 a.m. to 11:00 p.m., 15 hours a day non-stop. With over 40 years of experience in supporting numerous international large-scale sports events, CPS has developed a smooth service system capable of responding to a wide range of service needs swiftly with high standards. With professional technology, advanced equipment and enthusiastic attitude, CPS has gained great trust and praise from journalists around the world. This year, the spirit of CPS has been sustained in Hangzhou 19th Asian Games.


The CPS team had started preparations since beginning of the year. The team members are from CPS service network sites in many cities across China, including Beijing, Shanghai and Guangzhou, as well as Hangzhou locally. 43-member comprising Canon engineers and professionals were finally selected to form the team to serve the Asian Games.

Free Loan Service for EOS and Broadcast Series Products
The CPS Centre at this year's Asian Games provided registered photographers with a wide selection of professional equipment, including Canon's full-frame mirrorless camera, the EOS R3, and flagship full frame DSLR camera, the EOS-1D X Mark III. As a professional model that combines high speed and high image quality, it is a great choice for those who want to capture the fastest and most exciting moments on the field. The EOS R3 and the EOS-1D X Mark III are the ideal tools for sports photography and photojournalism, empowering photojournalists to capture the excitement of the sports scenes.

In terms of lenses, Canon brought a full range of RF and EF lenses, Canon L lenses that can accurately capture objects at long distances and made every effort to ensure that photojournalists could borrow the equipment more conveniently. Registered photographers were able to borrow these products free of charge on the same day without making an appointment, for a 24-hour loan period.

For the "EOS Series", Canon also prepared a series of Ultra HD, 4K and 8K broadcast lenses and the XF605, a professional digital camcorder. This included seven lenses in the 4K broadcast-quality portable lens "CJ Series", one lens each in the HD broadcast-quality "HJ Series", 1.25-inch bayonet-adapted "8K Broadcast Lens Series" and 1.25-inch bayonet mount "8K Broadcast Lens Series". The CJ Series of HD professional portable lenses, included the CJ45e×(9.7B) IASE-V H 4K which feature high magnification zoom and long focal lengths within a compact, lightweight body. This makes it easy to carry and operate, while being capable of meeting the demands of filming professional sporting events. In terms of accessories, CPS also prepared a servo to support smooth and safe broadcast of a quality event. Registered photographers of the tournament only needed to make the booking one day in advance to be entitled to loan broadcasting equipment products.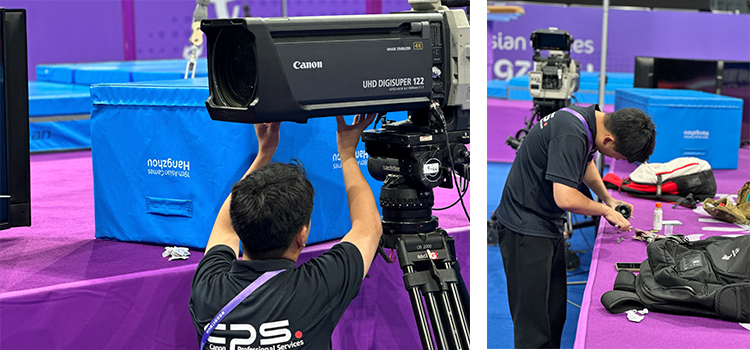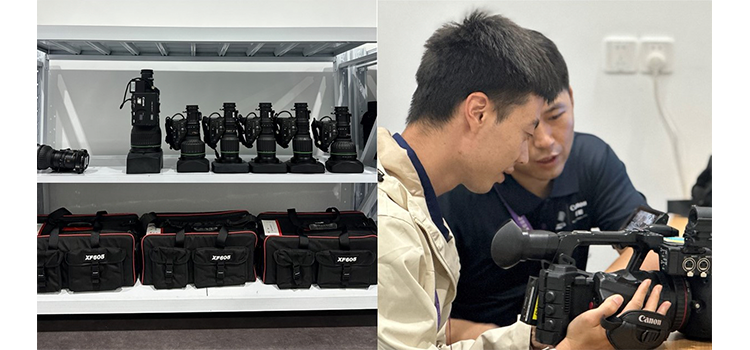 Technical Support of Neural network Upscaling Tool
Just prior to the opening of the Asian Games, Canon launched two advanced image processing tools for the market – The Neural network Image Processing Tool and the Neural network Upscaling Tool which use deep learning technology. The Neural network Image Processing Tool enables efficient noise reduction, colour compensation and optical optimization of lenses, bringing picture quality and image effects to new levels that were previously difficult to achieve. The Neural network Upscaling Tool can generate high-resolution images based on deep learning from Canon's photo sample database to maintain image fineness as much as possible when enlarging images. The CPS Centre provided technical support for these two image processing tools during the Asian Games, and there was a Canon professional technician on site to answer questions and solve problems.

Professional Repair, Cleaning, Maintenance and Firmware Upgrade Services
In addition to providing loan services for EOS and a wide range of equipment, CPS also provided professional repairs, cleaning, maintenance and firmware upgrades for Canon equipment swiftly, so as to ensure photographer's equipment can function properly. To this end, the technical engineers of the Canon CPS Centre carried out a lot of preparatory work before the event and equipped several experienced personnel for on-site support to ensure that they could respond to unexpected needs on site.


Canon's Sponsorship of the Hangzhou 19th Asian Games
As an official sponsor of the Hangzhou Asian Games, Canon provided support for the Hangzhou 19th Asian Games in various areas, including imaging input and output equipment, services and solutions.




About Canon Singapore Pte. Ltd.
Canon is a global leader in photographic and digital imaging solutions. Canon Singapore Pte. Ltd. is the headquarters for South & Southeast Asia driving sales, marketing and service strategies. Besides handling the domestic market, the company covers 22 other countries and regions including subsidiaries in India, Malaysia, Thailand and Vietnam. The parent company Canon Inc. has a global network of more than 300 companies and employs about 180,000 people worldwide. Canon is guided by its kyosei philosophy that focuses on living and working together for the common good.

More information is available at https://sg.canon.