Zoom Into, Shoot and Capture Precious Moments Instantly with Canon's Pocket-sized PowerShot ZOOM
As compact as a small power bank, the PowerShot ZOOM is a handy outdoor companion to enjoy and capture family activities such as hiking and wildlife watching. Users will never miss the action as they can zoom into three modes, snap a quick photo, and even record the moment instantly.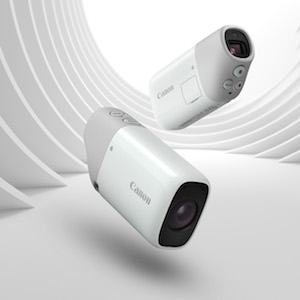 SINGAPORE, 17 March 2021 — Canon today announced the launch of the PowerShot ZOOM, a pocket-sized digital monocular camera designed for those who want to zoom into and capture precious moments from afar quickly and conveniently.

Whether it's enjoying the flora and fauna in nature parks, admiring the scenery from high elements such as Mount Faber and Marina Bay Sands, or even simply capturing children playing at the playground from afar, the PowerShot ZOOM's three modes of magnification lets users zoom into the moment quickly without missing out on the action.

Weighing only 145g, the PowerShot ZOOM is as light and as compact as most of the smaller power banks, making it very convenient for users to store in the pocket and bring it along for outdoor activities. Users can also operate the PowerShot ZOOM fully with just one hand.

Edwin Teoh, Head of Marketing, Singapore Operations, Canon Singapore said: "As a pocket-sized digital monocular camera, the PowerShot ZOOM is a handy companion for users who are on the go and want to quickly zoom into, shoot and even record precious and fleeting moments in life for instances that mobile devices may not adequately do the job.

With just three buttons for the main navigation, it is simple to use so that it can be enjoyed by anyone in the family, whether it's the kids who want to zoom in on the Blue-Eared Kingfisher that can be spotted at Bukit Timah Nature Reserve, or parents who want to capture their children scoring that winning goal at a football match."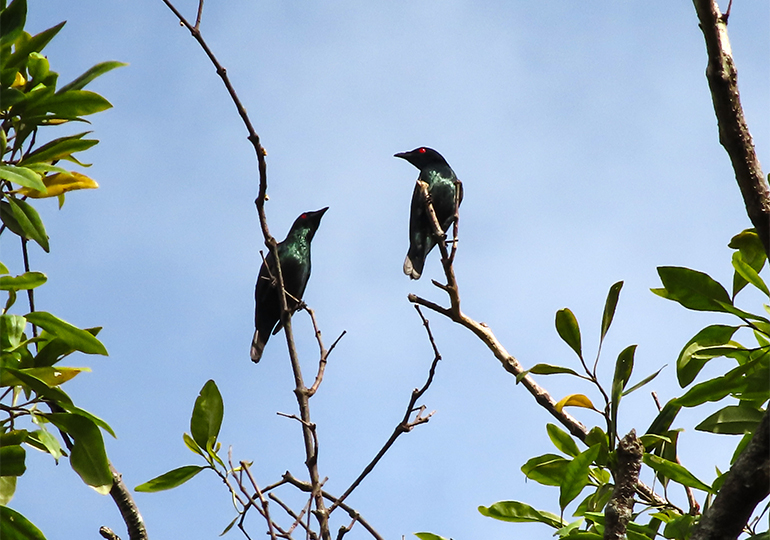 Bird's Eye View
Two Asian Glossy Starling (Aplonis panayensis) birds perched atop branches at Pasir Ris Park Mangrove Swamp. The Asian Glossy starling is one of Singapore's most abundant birds and has glossy green plumage that may appear black in poor light. With prominent bright red eyes and black beak, the Asian Glossy Starling can be spotted at fruiting trees and roosting sites.
[Photo taken by Bernard Teo with the Canon PowerShot ZOOM at 400mm magnification.]
Simple, Fun and Easy to Use
Zooming, shooting and recording on the PowerShot ZOOM is straightforward and fast, letting users quickly capture fleeting moments such as children scoring a point at the basketball court and birds resting on branches at nature parks. Pressing the zoom button located at the top of the device lets users zoom into three modes (100m, 400m and 800m magnification) instantly. To take a photo or record a video, users can simply press the photo or record button at the bottom of the device.

The PowerShot ZOOM also sports a telescopic design and comes with autofocus and image stabilisation, which provides a comfortable viewing experience during prolonged use. The features also let users easily capture clearer shots of players running across the football field or a flock of birds flying across the treetops.

Designed to be used on the go, the PowerShot ZOOM can be charged via the supplied Type-C to Type-C interface cable with a compatible charger or power bank (sold separately). A full battery charge provides approximately 60 minutes of movie record time, 150 still shots and a live viewing time of 70 minutes. The PowerShot ZOOM uses a microSD card as storage media.
In Plane Sight
The Republic of Singapore Air Force's C-130 Hercules military transport aircraft spotted flying across 66A Circuit Road MSCP. The C-130 Hercules is typically deployed to support the Singapore Armed Forces' operational requirements including Humanitarian Aid and Disaster Relief and Search and Locate missions.

[Photo taken by Bernard Teo with the PowerShot ZOOM at 800mm magnification]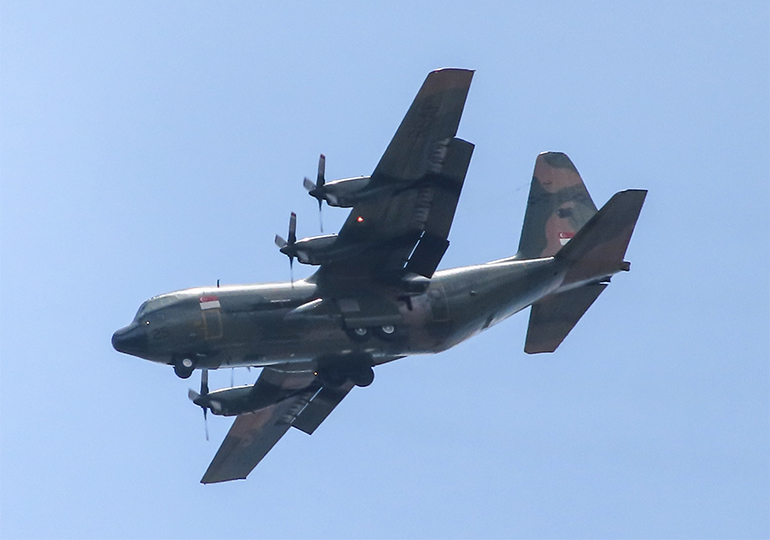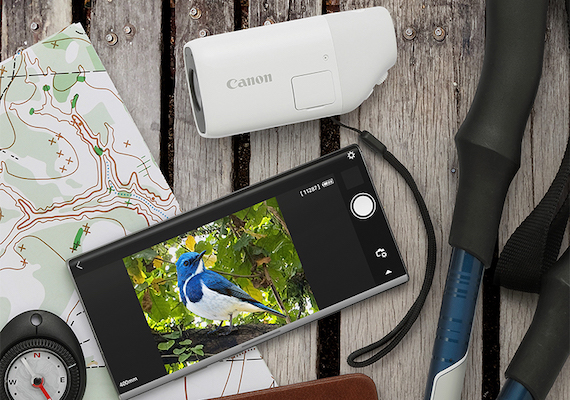 Photo Sharing Made Easy
Users connect the PowerShot ZOOM to the Canon Camera Connect app to view photos in real time and easily share the photos across social media platforms.
Seamless Connectivity with Smartphones for Sharing on the Go
For easy sharing on various social media platforms, images recorded on the PowerShot ZOOM can be transferred to a smartphone via Canon's Camera Connect app wirelessly or via wired USB. With the Camera Connect app, users can perform remote shooting and share the images being viewed in real time, on a smartphone with family and friends.

When the PowerShot ZOOM is connected to a smartphone via a wired USB cable, it is recognized as a USB mass storage device, and images can be imported into the smartphone.
Nationally Endangered
The Grey Heron (Ardea Cinerea) perched on a tree at Pasir Ris Park Mangrove Swamp. The Grey Heron is distinguished by its grey upperside and a mostly white head with black markings down its long neck. It's currently classified as nationally endangered but its population in Singapore has been gradually increasing in recent years. The Grey Heron feeds on amphibians, small mammals and insects.

[Photo taken by Bernard Teo with the PowerShot ZOOM at 400mm magnification.]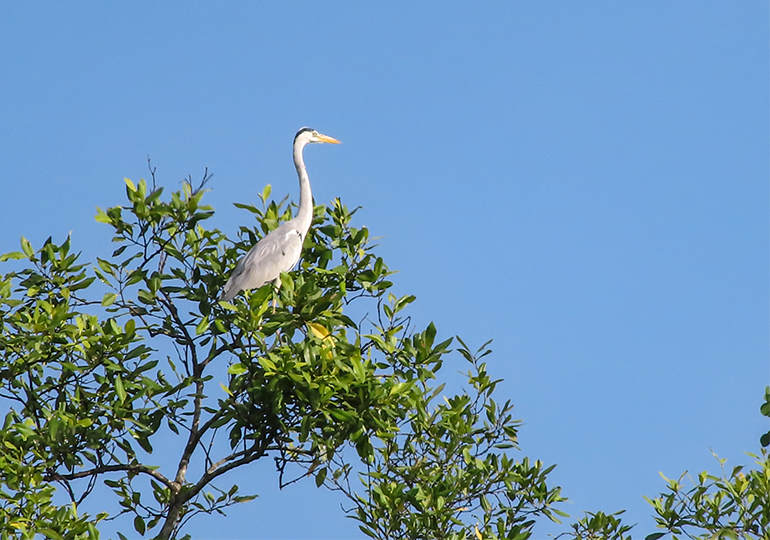 What is Yours is Mine
An Otter (Lutrogale Perspicillata) duo sharing their freshly caught fish at Bishan-Ang Mo Kio park. The Otters are highly sociable mammals using smell and calls to communicate with one another. They typically prefer to swim in a pack of four to twelve while chasing after fish.

[Photo taken by Bernard Teo with the PowerShot ZOOM at 400mm magnification.]
Observation Deck
A zoomed-in shot of the observation deck at Marina Bay Sands taken from Raffles Boulevard.

[Photo taken by Ryan Cheng with the PowerShot ZOOM at 800mm magnification.]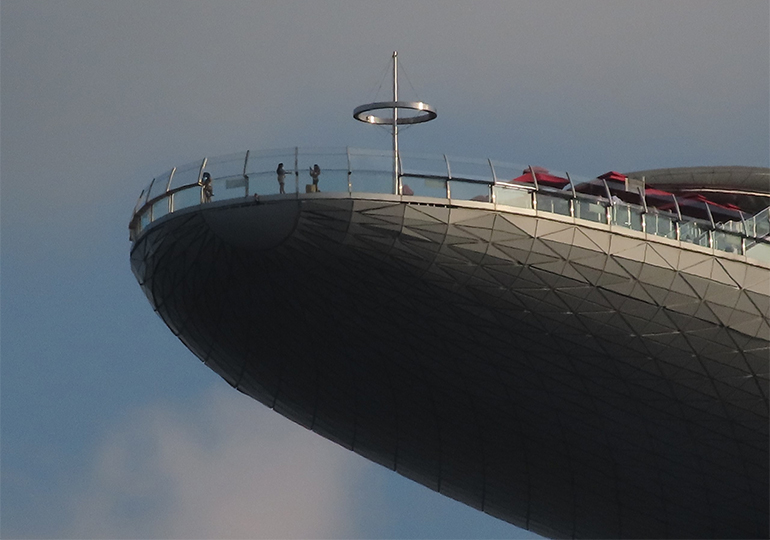 Pricing and Availability
Priced at $459, the Canon PowerShot ZOOM will be available at authorised Canon dealers in April 2021.


Specifications
Camera Model
PowerShot ZOOM
Image Processor
DIGIC 8
Image Sensor Camera Effective Pixels
Effective sensor size: 1/3-inch CMOS
Camera effective pixels: Max approx. 12.1 megapixels
Metering System
384 zone (24 × 16) metering using image sensor
Autofocus Method
Face+Tracking, 1-point AF*
*Fixed at the centre of the screen for 1-pint AF
Focal Length (35mm Equivalent)
100/400mm
Digital zoom: x2 (800mm equivalent)
*Switchable: 100mm → 400mm → 800mm
Image Stabilizer (IS) System
Optical 4-axis IS
Effective ISO
Stills: 100 - 3200 set automatically
Movie shooting: 100 - 3200 set automatically
Continuous Shooting
Max. approx. 10 shots/sec (AF fixed)
Max Shutter Speed
1/8000 sec.
Viewfinder
0.39-inch OLED, 2.36 million dots
59.94fps refresh rate
Movie
1,920 x 1,080
29.97/23.98fps (NTSC), 25.00fps (PAL)
Recording Media
microSD / microSDHC / microSDXC
*UHS-I cards compatible
Power Supply
Built-in rechargeable lithium-ion battery
USB Charging / Optional Power
Can be charged/powered with USB Type-C
*With 18W (9V / 2A) or higher compatible devices
Size
Approx. 33.4mm x 50.8mm x 103.2mm
Weight
Approx. 145g (incl. battery and media)
Viewing Time
Approx. 70 minutes
Number of Possible Shots
Approx. 150 shoots
Movie Shooting Time
Approx. 60 minutes (time per recording: 9 minutes 59 seconds)
Network
Wi-Fi /Bluetooth Low Energy Technology


About Canon Singapore Pte. Ltd.
Canon is a global leader in photographic and digital imaging solutions. Canon Singapore Pte. Ltd. is the headquarters for South & Southeast Asia driving sales, marketing and service strategies. Besides handling the domestic market, the company covers 22 other countries and regions including subsidiaries in India, Malaysia, Thailand and Vietnam. The parent company Canon Inc. has a global network of more than 300 companies and employs close to 200,000 people worldwide. Canon is guided by its kyosei philosophy that focuses on living and working together for the common good.

More information is available at https://sg.canon.