Transforming the Production Landscape - the All-New Canon CR-N500 and CR-N300
Indoor Cameras CR-N500 and CR-N300 attest its adaptability to today's pandemic and labour cost concerns, with astounding features such as one-person operation through the wide angle up to 20x Optical Zoom lens for 4K UHD imaging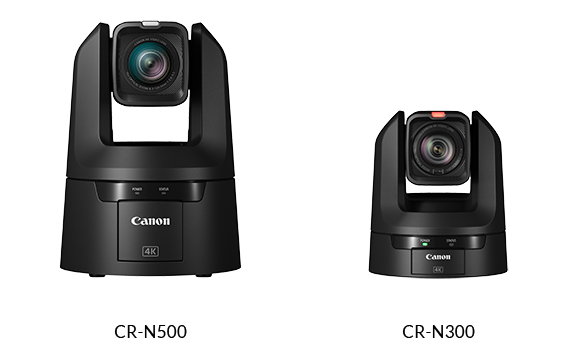 SINGAPORE, 28 February 2022 — Canon Singapore is excited to announce the launch of an all-new innovative Pan, Tilt, Zoom (PTZ) CR-N300 and CR-N500 remote camera, that aims to shape the future of filming in the video production industry.

"The Canon CR-N300 and CR-N500 were designed to provide video productions with increased flexibility to simplify operations, allowing for a single operator to manage multiple cameras remotely. In our current climate, this would go a long way towards easing budget and manpower constraints faced by SMEs in production, to achieve greater productivity." said Norman Ayob, Head of Sales & Marketing, Innovative Solution Centre (ISC), Canon Singapore. "With up to 20x Optical Zoom and 4K UHD imaging, these latest offerings from Canon aim to provide high quality performance in addition to all the support required for production companies, ranging from workflow to ease of operations."

Remote Capability
The Canon CR-N300 and CR-N500 PTZ cameras come fully compatible with the Canon RC-IP100 remote controller, allowing them to perform smooth and precise pan, tilt, and zoom movements with a speed range of 0.2° to 300° per second. Mic-level audio can also be input via a 3.5 mm mini-jack and embedded in the HDMI, SDI, or USB outputs, or within the producer's RTP/RTMP/RTSP multi-stream.

Canon CR-N300
Equipped with a Hybrid Autofocus system that combines high-precision contrast AF at high-speed phases, this camera allows users to also make use of the impressive pre-set scene mode, which allows a shooting mode based on the subject environment. Equipped with a small yet mighty 20x optical zoom along with its wide-angle and high magnification, the CR-N300 covers a wide range of shooting needs, from simple web streaming to studio broadcast production.

Stay Connected
The Canon CR-N300 comes with an USB connectivity, in addition to IP, SDI and HDMI connectivity, allowing users to easily integrate their device with any web application. Through the USB connectivity, a UVC connection is also available to allow users to directly connect their camera to a computer device, without the need for installing a third-party driver.

Incredible Clarity
Equipped with a 20x optical high magnification zoom lens that starts from 29.3 mm and 1/2.3 types 4K UHD CMOSE sensor, this device brings about a 3D real-time lens structure that validates its usage in all kinds of applications. Besides providing users with an amazingly quiet operational style, it also moves freely and responds in real time for both zooming and image stabilisation procedures.

Equipped with 8-bladed technology, the CR-N300's circular aperture also helps to create aesthetically pleasing images and videos comparable to the professional range of lens offerings.

Highly Accessible
The CR-N300 also comes with multiple terminals, including a USB support connection that will allow producers to make use of this device regardless of their needs. The camera also supports high efficiency video codecs, ranging from JPEG, H.264 and H.265, lowering the costs of storage whilst reducing the need for immense data scrubbing during transmission, improving its accessibility and connectivity.

Canon CR-N500
The CR-N500 is a multi-faceted camera that targets the shooting and distribution of high-quality videos through a remote setting. This new system demonstrates the incredibly quick response time of the device during remote operations, whilst also offering flexible methods during video production and broadcasting, all controlled through a one-man operation setting.

Exemplary Broadcast Quality
To meet the video production needs, CR-N500 is equipped with a 1.0-inch 4K UHD CMOS image sensor that captures up to 60 fps in Full HD. Using 9-bladed Iris Diaphragm technology, the camera creates attractive and natural bokeh effects, whilst offering a high 15x optical zoom and wide-angle coverage to meet a producer's shooting needs.

Enhanced Manoeuvrability
Introducing a four-axis correction mechanism, the CR-N500 is enabled for vertical and horizontal roll correction, along with an up-down/left-right correction, allowing users to maintain a proportional image regardless of the angle at which the video or image is shot at. Powered by the Dual-pixel CMOS AF, the camera also shoots with an incredibly accurate auto-focus assistance technology with high-speed and high-precision.

One Man Operation
The CR-N500 also boasts a selection of remote-control applications, whether using the Infrared WL-N01 Remote or a paired Windows Surface Tablet, with the Remote Camera Controller Application installed, to allow one person to operate the entire camera from a remote locale. The various ways in which the CR-N500 can be used remotely via the above-mentioned methods also allows producers and cameramen enhanced flexibility in choosing their method of operation to suit the needs of their video production purpose. Users can use both Wi-Fi and infrared connectivity to activate the camera, with an indicative "Tally Lamp" near the lens to indicate whether the camera is in standby mode or not, with a red light indicating that it is on-air, whilst a green light to indicate when it is on standby.

Multi-Streaming Capabilities
The CR-N500 also supports a distribution total of three video streams at the same time, allowing users to work concurrently with one device. This can be achieved through the Network Device Interface protocol, as the camera also supports Real-time Transport protocol. The camera can output a HDMI/SDI video at a maximum of 30 fps or less when distributing three channels but is also capable of distributing two video streams at 4K H.264 and 360p H.264 codecs at the same time.

Product Specifications
Specifications
CR-N500
CR-N300
Image Sensor
1" Dual Pixel CMOS
1/2.3" CMOS
Maximum Resolution
4K (3840 x 2160)
4K (3840 x 2160)
Minimum Subject Illumination (Colour)
1.5 lux
1.5 lux
Focal Length (35 mm conversion)
8.3 - 124.5 mm
(25.5 - 382.5 mm)
3.67-73.4 mm
(4K UHD: 29.3 - 601 mm)
Horizontal Angle of View
73.0° - 5.7°
65.5° - 3.6°
Optical Zoom
15x
20x
ND Filter
Y (1/4, 1/8, 1/16)
Y (1/2, 1/4, 1/8)
Video Output I/F
3G-SDI, HDMI, IP
3G-SDI, HDMI, IP, USB
Video Codec
H.264, H.265, JPEG
H.264, H.265, JPEG
Video Output Format [Max.]
SDI
FHD 59.94p (4:2:2 10 bit)
FHD 59.94p (4:2:2 10 bit)
HDMI
4K 29.97p (4:2:2 10 bit)
4K 29.97p (4:2:2 10 bit)
IP
4K 29.97p (4:2:0 8 bit)
4K 29.97p (4:2:0 8 bit)
USB
N/A
Motion-JPEG: FHD 12.5p
Video Transmission Protocol (IP)
Canon's New Protocol (TN), RTSP/RTP, NDI|HX, RTMP
Canon's New Protocol (TN), RTSP/RTP, NDI|HX, RTMP
Control I/F
IP / RS-422 / Wi-Fi / IR Remote Control
IP / RS-422 / Wi-Fi / IR Remote Control
Control Protocol (IP)
Canon XC Protocol (Canon original), VISCA, VISCA over IP, NDI|HX
Canon XC Protocol (Canon original), VISCA, VISCA over IP, NDI|HX
Power Supply
PoE+, 24 V DC
PoE+, 24 V DC
Pan Operating Range, Operating Speed
±170°, 0.1°/s - 100°/s
±170°, 0.2°/s to 100°/s (preset: up to 300°/s)
Tilt Operating Range, Operating Speed
-30°- 90°, 0.1°/s - 100°/s
±170°, 0.2°/s to 100°/s (preset: up to 300°/s)
GEN-LOCK Support
Yes
No


About Canon Singapore Pte. Ltd.
Canon is a global leader in photographic and digital imaging solutions. Canon Singapore Pte. Ltd. is the headquarters for South & Southeast Asia driving sales, marketing and service strategies. Besides handling the domestic market, the company covers 22 other countries and regions including subsidiaries in India, Malaysia, Thailand and Vietnam. The parent company Canon Inc. has a global network of more than 300 companies and employs about 180,000 people worldwide. Canon is guided by its kyosei philosophy that focuses on living and working together for the common good.

More information is available at https://sg.canon.