Canon to Sponsor the Asian Games Hangzhou 2022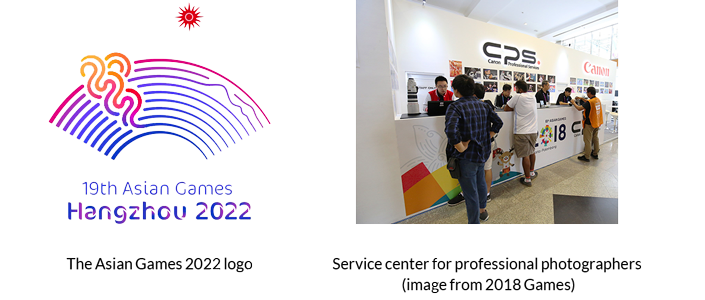 SINGAPORE, 28 January 2022 (Updated on 20 July 2022) — Canon announced today that the Company has signed a basic partnership agreement to become a sponsor for the Asian Games Hangzhou 2022, organized by the Olympic Council of Asia and the 19th Asian Games Hangzhou 2022 Organising Committee. This year's games, the 19th Asian Games, will be held from September 23 to October 8, 2023* in Hangzhou, People's Republic of China.

First held in 1951, the Asian Games is an international sports competition comprising the Asia region held once roughly every four years. This year, approximately 10,000 athletes from 45 countries and regions will compete in 482 events across 40 sports.

As with other sporting competitions in the past, both in Japan and overseas, Canon will provide behind-the-scenes support to members of the press. Following the Asian Games Jakarta/Palembang 2018, and now the Asian Games Hangzhou 2022, Canon will continue to provide support such as camera and lens maintenance services and product loans while awaiting repairs, to enable the best possible capture of the top-class athletes competing at the zenith of their sport. With the addition of the high-speed, high-reliability EOS R3 full-frame mirrorless camera, Canon further expands its lineup of interchangeable-lens cameras and helps meet the needs of sports photographers.

As a sponsor, Canon offers event management the full support of its diverse products and services, ranging from input and output products—including cameras, lenses, video camcorders, broadcast equipment, copiers, multifunction devices and printers—to medical equipment.

The Canon Group will continue contributing to the advancement of sports through the use of Canon products and technologies.


About Canon Singapore Pte. Ltd.
Canon is a global leader in photographic and digital imaging solutions. Canon Singapore Pte. Ltd. is the headquarters for South & Southeast Asia driving sales, marketing and service strategies. Besides handling the domestic market, the company covers 22 other countries and regions including subsidiaries in India, Malaysia, Thailand and Vietnam. The parent company Canon Inc. has a global network of more than 300 companies and employs about 180,000 people worldwide. Canon is guided by its kyosei philosophy that focuses on living and working together for the common good.

More information is available at https://sg.canon.
*Updated on 20 July 2022:
The event period has been postponed from its original date of September 10 - 25, 2022, due to the COVID-19 pandemic.