Canon Releases the RF85mm f/1.2L USM DS, the Definitive RF-mount Portrait Lens with Smooth Gradient Bokeh
Canon's latest L-series portrait lens is the company's first RF lens to feature DS coating that creates a soft and smooth gradient bokeh.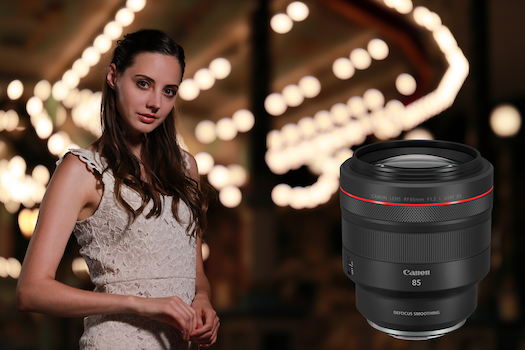 SINGAPORE, 24 October 2019 - Canon today announced the release of its new large aperture prime lens; RF85mm f/1.2L USM DS, the latest release in the L-series portraits lens. Inheriting the excellent optical design of the RF85mm f/1.2L USM, the RF85mm f/1.2L USM DS has a Defocus Smoothing (DS) coating, which is ideal for users who seek a smooth, beautiful bokeh expression with gradient soft outlines.

"We are proud to introduce the RF85mm f/1.2L USM DS, a powerful lens that achieves the highest optical performance among Canon's interchangeable lenses with 85mm focal length," said Edwin Teoh, Head of Marketing, Singapore Operations, Canon Singapore. "Equipped with Canon's original DS coating and f/1.2 maximum aperture, the RF85mm f/1.2L USM DS makes significant and smooth 'bokeh expression' possible to achieve."
​​​​​​​
​​​​​​​Unique DS Coating for Smooth Bokeh
​​​​​​​With Canon's proprietary vapour-deposited coating technology, the DS coating has the effect of gradually decreasing the transmittance of light from the centre to the periphery of the lens. This produces a smooth gradient bokeh that provides that beautiful expression as soft blurring can be achieved all around the outline of the bokeh. To optimise the effect, DS coating is used on the front and rear surface of the lens, allowing users to achieve high optical performance when shooting. The optical performance of the RF85mm f/1.2L USM DS, together with the previously released RF85mm f/1.2L USM lens, even surpasses that of the renowned EF85mm f/1.2L USM lens.
​​​​​​​
​​​​​​​With the large aperture of f/1.2, the soft and smooth gradient bokeh effect of the DS coating is maximised. The unique DS feature of the RF85mm f/1.2L USM DS adds a special touch to images in various settings, ranging from weddings and portraits, fashion or lifestyle scenarios.
​​​​​​​
​​​​​​​A Large Aperture Lens with Superior Resolution
​​​​​​​When it comes to large aperture lenses, the 85mm focal length has been the ideal choice for portrait photographers, allowing them to create natural-looking portraits with beautiful bokeh in the background. The RF85mm f/1.2L USM DS has an optical design of 13 elements in 9 groups, including Blue Spectrum Refractive Optics (BR) optical element, 1 UD and 1 ground aspherical lens element. The BR and UD lenses help to greatly suppress chromatic aberration, resulting in excellent rendering performance.
​​​​​​​
​​​​​​​The lens also features Canon's proprietary Air Sphere Coating (ASC) to reduce lens flare and ghosting caused by reflections, as well as enhance image clarity and contrast when shooting back-lit subjects.
​​​​​​​
​​​​​​​Thanks to its bright aperture of f/1.2 and 9-blade circular aperture, the RF85mm f/1.2L USM DS delivers beautiful and soft background blur. The large aperture also allows users to capture sharp and crisp images in low light environments with a higher shutter speed.
​​​​​​​
​​​​​​​The lens achieves a minimum focusing distance of 0.85m and 0.12x maximum magnification, expanding the shooting area from close-ups of people to shooting small objects.
​​​​​​​
​​​​​​​A Brand New Shooting Experience
​​​​​​​The RF85mm f/1.2L USM DS also features a new "control ring" found in new RF lens series, allowing users to assign settings that include aperture value, shutter speed, ISO sensitivity and exposure compensation. The tactile control ring gives the user precise control allowing accurate adjustment without looking away from the subject.
​​​​​​​
​​​​​​​When the control ring is operated alongside the main dial and quick control dial on the EOS R camera, user will have three dials to set the aperture, shutter speed and ISO sensitivity respectively, simplifying the complex operations that initially required several steps to achieve.
​​​​​​​
​​​​​​​For flexible adaption to changes in the environment, users can assign exposure compensation to the control ring during portrait shooting. In the case when there is a sudden change in lighting conditions, the user can use one hand to operate the control ring and adjust exposure compensation while simultaneously using the shutter button with the other hand.
​​​​​​​
​​​​​​​Being an L-lens for professionals, the RF85mm f/1.2L USM DS's weatherproof construction also makes it dust and water-resistant, making it the perfect choice of lens for photographers who enjoy outdoor photography.
​​​​​​​
​​​​​​​Pricing and Availability
​​​​​​​Pricing and availability will be advised at a later date. ​​​​​​​
​​​​​​​
​​​​​​​Product Specifications​​​​​​​
RF85mm f/1.2L USM DS
Mount
RF
Focal Length
85 mm
Maximum Aperture
f/1.2
Minimum Aperture
F16
Minimum Focusing Distance
0.85 m
Maximum Magnification
0.12 x
Lens Construction
13 elements in 9 groups
Aspherical Lens
One
Special Low Dispersion Glass
One UD
Special Optical Element
BR optical element in one location
Special Coating
ASC fluorine coating
DS coating on two surfaces
Dust Resistance, Water Resistance
Supported
Aperture Blades
9 (Circular)
IS
No
Filter Diameter
Φ82 mm
Maximum Diameter and Length
Approx. 103.2 mm x 117.3 mm
Weight
Approx. 1,195 g

About Canon Singapore Pte. Ltd.
​​​​​​​Canon is a global leader in photographic and digital imaging solutions. Canon Singapore Pte. Ltd. is the headquarters for South & Southeast Asia driving sales, marketing and service strategies. Besides handling the domestic market, the company covers 22 other countries and regions including subsidiaries in India, Malaysia, Thailand and Vietnam. The parent company Canon Inc. has a global network of more than 300 companies and employs close to 200,000 people worldwide. Canon is guided by its kyosei philosophy that focuses on living and working together for the common good.

​​​​​​​More information is available at https://sg.canon.