Canon LI3030SAM and LI3030SAI Ultra-high Sensitivity CMOS Sensors Feature Greatly Enhanced Near-infrared Range Sensitivity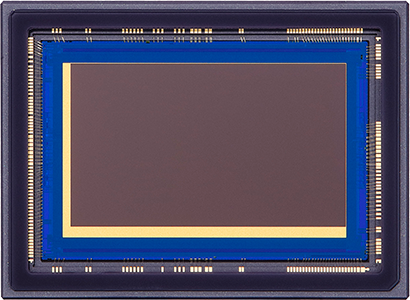 SINGAPORE, 19 October 2020 — Canon announced today that the company will commence sales of two new ultra-high sensitivity 35mm full-frame CMOS sensors—the LI3030SAM (monochrome) and LI3030SAI (color/near-infrared)—which feature greatly enhanced sensitivity1 compared to predecessor models thanks to a new pixel configuration.

The new 35mm full-frame ultra-high-sensitivity CMOS sensors feature large 19μm x 19μm (micrometer) pixels that realize ultra-high sensitivity and enable image capture in environments where subjects would be difficult to discern with the naked eye. Capable of a full readout resolution of 2160 x 1280, greater than that of Full HD (1920 x 1080), the LI3030SAI and LI3030SAM are ideal for astronomical observation, which requires a large image capture area, as well as such specialized-aspect-ratio2, high-resolution imaging needs as monitoring and industrial applications.

The LI3030SAM is capable of monochrome video capture in low-light environments with as little as 0.0005 lux3 of illumination. Realizing approximately 3.0 times4 the sensitivity of predecessor models in the near-infrared range, the sensor provides greater visibility, including for the infrared range, in such applications as the observation of celestial bodies and nighttime video capture. Near-infrared light can reduce the effects of atmospheric dust, making it suitable for observing such celestial phenomena as starlight radiating from the center of the milky way galaxy as well as observation of stars that primarily radiate near-infrared light.

By replacing a pixel in a traditional color filter pattern with a near-infrared pixel, the LI3030SAI enables simultaneous color and near-infrared image capture using only one sensor and provides approximately 2.3 times4 the sensitivity in the near-infrared range, even in low-light environments with as little as 0.001 lux of illumination—not possible with previous models. These capabilities allow users to not only reduce the number of cameras required, but also contributes to the miniaturization of imaging systems and inspection devices.

In addition, the sensor can detect even weak signals based on differences in such factors as percentage of near-infrared light reflected and absorbed, making it useful in the sub-surface observation of objects, nighttime monitoring, observing the growth of crops and foreign object detection in factories producing foodstuffs, as well as visualizing inner potions of body tissue, making it ideal for a wide range of applications in fields including manufacturing and medical treatment.


About Canon Singapore Pte. Ltd. ​​​​​​
Canon is a global leader in photographic and digital imaging solutions. Canon Singapore Pte. Ltd. is the headquarters for South & Southeast Asia driving sales, marketing and service strategies. Besides handling the domestic market, the company covers 22 other countries and regions including subsidiaries in India, Malaysia, Thailand and Vietnam. The parent company Canon Inc. has a global network of more than 300 companies and employs close to 200,000 people worldwide. Canon is guided by its kyosei philosophy that focuses on living and working together for the common good. ​​​​​​

More information is available at https://sg.canon.
---
1 The LI3030SAM's predecessor model is the 35MMFHDXSMA (released in March 2019). The LI3030SAI's predecessor model is the 35MMFHDXSCA (released in August 2018).
2 Monitoring applications frequently require 3:2 aspect ratios, while industrial operations often require 1:1 aspect ratios.
3 The equivalent of ambient moonlight from a full moon is approximately 0.3 lux, while that of a crescent moon is approximately 0.01 lux.
4 For near-infrared range light with a wavelength of 800 nm.