Canon imageFORMULA DR-S150 Delivers High-Performance, PC-Less Scanning
With wireless, wired and USB connectivity options, the compact imageFORMULA DR-S150 desktop document scanner offers scanning flexibility and is ideal for businesses of all sizes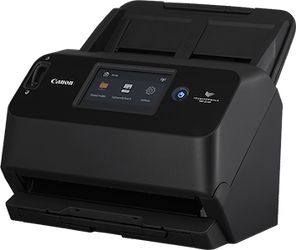 SINGAPORE, 2 Dec 2020 — Canon today announced the launch of the imageFORMULA DR-S150, a compact desktop document scanner designed to deliver quick and reliable scanning with versatile connectivity options. Suitable for use by workgroups or individual users, the scanner can be easily shared between multiple PCs. Its multiple connectivity options and advanced features make the DR-S150 ideal for organisations that routinely scan a large volume of documents and those with workflows that do not require a computer.

The scanner is easy to operate and can be used in various industries, including financial services, healthcare, legal services and insurance. Integrating with existing information management systems, the flexible imageFORMULA DR-S150 helps businesses automate paper-based processes and streamline workflows efficiently.

"With more people adopting remote working arrangements or staggered shifts in the office, the imageFORMULA DR-S150 is an excellent addition for home offices, small offices and large corporate office departments with its range of network connectivity options. The versatility of the imageFORMULA DR-S150 will greatly help to streamline the workflow and enhance work efficiency in various industries. " said Vincent Low, Senior Director, Business Imaging Solutions, Canon Singapore.

Easy Connectivity From Anywhere
With built-in WiFi, wired Ethernet and USB connections for networked and local operation, users have the convenience of using the imageFORMULA DR-S150 document scanner with desktop computers and even compatible smartphones and tablets. The various connection options enable multiple users to share the scanner from almost anywhere in an office environment. By selecting a shared network folder as the destination for scanned images, users can even scan documents on-the-go, which will be saved directly to the folder without having to use a desktop computer.

Advanced Scanning Technology
Known as the DR Processor, the on-board image processing CPU of the imageFORMULA DR-S150 delivers high-speed, high-quality scans of up to 90 images per minute, independent of the performance of any connected computers. Even for documents with a dark or patterned background, or those that are crumpled, the DR Processor ensures the resulting scanned images are legible and have the optimal amount of contrast and brightness.

The scanner also incorporates Optical Character Recognition (OCR) technology which converts scanned images into searchable data, helping to capture information accurately and improve text legibility.

Equipped with a reliable paper feeding mechanism and separation rollers, the imageFORMULA DR-S150 makes high-volume batch scanning of mixed document types quick and easy. Users can perform scanning tasks in large batches of up to 60 pages, over a wide range of media including ultra-thin papers, plastic ID,embossed cards and even passports up to 4mm thick. Featuring a large colour LCD touchscreen, the scanner takes performance to the next level with an intuitive interface that provides users with simple scanning operation and absolute ease of use.

Smart Output Capabilities
The DR-S150 scanner helps businesses widen the scope of document capture and output capabilities when used with the CaptureOnTouch V4, an intuitive scanning software. Users can easily convert scanned documents to searchable files, manage digitised information, and send scanned documents to a range of cloud-enabled services, including Dropbox, Google Drive and more, keeping document workflows efficient and organised. The CaptureOnTouch Job Tool App is available for Windows, iOS as well as Android, and allows users to operate the scanner via smart mobile devices without connecting to a computer, for maximum convenience.

More information about the imageFORMULA DR-S150 can be found here.


About Canon Singapore Pte. Ltd.
Canon is a global leader in photographic and digital imaging solutions. Canon Singapore Pte. Ltd. is the headquarters for South & Southeast Asia driving sales, marketing and service strategies. Besides handling the domestic market, the company covers 22 other countries and regions including subsidiaries in India, Malaysia, Thailand and Vietnam. The parent company Canon Inc. has a global network of more than 300 companies and employs close to 200,000 people worldwide. Canon is guided by its kyosei philosophy that focuses on living and working together for the common good.

More information is available at https://sg.canon.