Canon Releases First RF Series Telephoto Zoom L Lens with New Floating Focus System
The new RF70-200mm f/2.8L IS USM lens is lighter and more compact than the EF-series equivalent model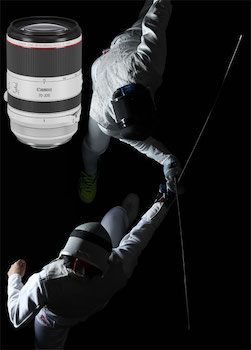 SINGAPORE, 24 October 2019 - Canon today announced the new RF70-200mm f/2.8L IS USM zoom lens, the third and latest addition to f/2.8 trinity RF mount zoom lens series, equipped with Image Stabilisation (IS). The versatility of the 70-200mm telephoto zoom range allows it to cover a wide range of subjects, such as portraits, nature, wildlife and sports.

"The RF70-200mm f/2.8L IS USM completes Canon's Zoom Trinity Lenses, the other two lenses being the RF15-35mm f/2.8L IS USM and RF24-70mm f/2.8L IS USM," said Edwin Teoh, Head of Marketing, Singapore Operations, Canon Singapore. "The shooting range of the RF70-200mm f/2.8L IS USM is incredibly diverse with its ability to shoot from still portraits to fast-moving sporting activities. Together with its lightweight and compact body, the RF70-200mm f/2.8L IS USM truly makes for an ideal partner in producing high quality images."

Reduction in Overall Length and Weight
Compared to the well-established EF70-200mm f/2.8L IS III USM lens (the existing EF mount model), the RF70-200mm f/2.8L IS USM is approximately 27% shorter and 28% lighter. In shooting situations, the lens and camera body combination is about 30% lighter compared to the existing EF lens and DSLR body combination. This would significantly help to lighten the load for shooting over a long period of time.

By using an extending zoom type design, coupled with the large diameter mount, short back focus and effective use of aspherical lenses, there is a significant reduction in the total length of the lens when it is at its shortest.
​​​​​​​
​​​​​​​With a length of approximately 170.2mm when stored with its lens and dust cap, the RF70-200mm f/2.8L IS USM can be easily stored in a camera backpack, leaving room for other lenses or equipment.
​​​​​​​
​​​​​​​New Optical Design with Electronic Floating Focus System
​​​​​​​With the large diameter and short back focus of the new EOS R full-frame mirrorless camera system, this significantly increases the degree of freedom in lens design compared to conventional EF lenses, while maintaining high image quality.
​​​​​​​
​​​​​​​The new optical design of the RF70-200mm f/2.8L IS USM consists of 17 elements in 13 groups, with two aspherical lenses, four UD lenses and one super UD lens. For the very first time, Canon is using an electronic float focus control in the RF70-200mm f/2.8L IS USM that drives the two lens groups individually. This feature makes the lens more compact and reduces the minimum focusing distance from 1.2m to 0.7m. With electronic floating focus control, 'breathing' due to focus movement can also be reduced so movies can be shot with a stable composition.
​​​​​​​
​​​​​​​The RF70-200mm f/2.8L IS USM is designed with Subwavelength Structure Coating (SWC), a special coating that enables excellent anti-reflectivity. This coating effectively suppresses reflections in situations where the light source appears on the screen, reducing flaring and ghosting.
​​​​​​​
​​​​​​​High Speed and Smooth AF for Still and Movie Shooting with Two Nano USMs
​​​​​​​For the very first time on a Canon lens, two thumb sized ultrasonic motors known as Nano USM are included in the RF70-200mm f/2.8L IS USM and used for the floating focus control. By using two Nano USMs for lens driving, a high degree of quietness, power saving, and high-speed operation are achieved while retaining the compact size. This also achieves high-speed, high-precision still image AF and smooth movie AF in combination with the Dual Pixel CMOS AF in the EOS R series cameras.
​​​​​​​
​​​​​​​The RF70-200mm f/2.8L IS USM is equipped with an IS (lens-based image stabiliser) with a CIPA standard of five stops for still images. There are also three IS modes which are optimised for subject movement - IS mode 1 for still subjects, IS mode 2 for panning and IS mode 3 for irregular movement such as sports.
​​​​​​​
​​​​​​​Durable and Built to Last
​​​​​​​As an L-series lens designed for professional use, the RF70-200mm f/2.8L IS USM adopts unique extendable design that allows air to pass through but not dust and moisture. This ensures water and dust resistance which makes it an ideal companion even during unfavourable weather conditions.
​​​​​​​
​​​​​​​The RF70-200mm f/2.8L IS USM is the first RF lens designed with a white heat shield coating, which suppresses the rise in temperature, especially when it is used during hot weather. A lens hood in the same colour as the RF70-200mm f/2.8L IS USM is also included, with a sliding window for easy operation of polarising filters with the hood attached.
​​​​​​​
​​​​​​​Canon has also newly developed a compact tripod mount that can be easily removed with a simple operation. The easy-to-read index allows users to quickly change the vertical and horizontal framing when using a tripod.
​​​​​​​
​​​​​​​Pricing and Availability
​​​​​​​Pricing and availability will be advised at a later date.
Product Specifications​​​​​​​​​​​
| | |
| --- | --- |
| | RF70-200mm f/2.8L IS USM |
| Mount | RF |
| Focal Length | 70-200 mm |
| Maximum Aperture | f/2.8 |
| Minimum Aperture | f/32 |
| Minimum Focusing Distance | 0.7m |
| Maximum Magnification | 0.23 x |
| Lens Construction | 17 elements in 13 groups |
| Aspherical Lens | Two |
| Special Low Dispersion Glass | One super UD, four UD |
| Special Coating | SWC, fluorine coating |
| Water/Dust Resistance | Supported |
| Aperture Blades | 9 (Circular) |
| IS (CIPA Standard Correction Effect) | Yes (5 stops) |
| Filter Diameter | Φ77 mm |
| Maximum Diameter and Length | Approx. 88.9 mm x 146.0 mm |
| Weight | Approx. 1,070 g (Tripod mount separate) |

​​​​​​​About Canon Singapore Pte. Ltd.
​​​​​​​Canon is a global leader in photographic and digital imaging solutions. Canon Singapore Pte. Ltd. is the headquarters for South & Southeast Asia driving sales, marketing and service strategies. Besides handling the domestic market, the company covers 22 other countries and regions including subsidiaries in India, Malaysia, Thailand and Vietnam. The parent company Canon Inc. has a global network of more than 300 companies and employs close to 200,000 people worldwide. Canon is guided by its kyosei philosophy that focuses on living and working together for the common good.
​​​​​​​
​​​​​​​More information is available at https://sg.canon​​​​​​​.​​​​​​​