Canon Launches Flagship EOS Cinema C700 FF with Newly Developed Full Frame Sensor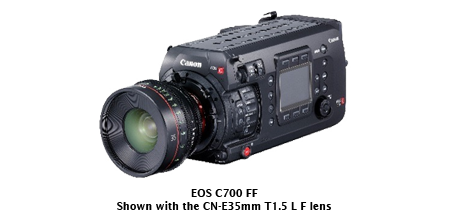 SINGAPORE, 29 March 2018 –
Canon today announced the launch of the new EOS C700 FF, the new flagship model of the Cinema EOS System lineup of professional digital cinematography products. The new model also has a PL mount version, the EOS C700 FF PL.
The EOS C700 FF inherits the outstanding usability and modular design of its predecessor model, the EOS C700 (released in December 2016), while employing a newly developed full-frame sensor that produces superb quality 4K video footage with low noise and high sensitivity. The EOS C700 FF meets a wide range of professional needs for on-location shooting of projects such as international blockbuster films and the broader video production market consisting of TV dramas, commercials and music videos.
Using the abundant visual information captured by its newly developed 38.1mm x 20.1mm full-frame sensor, internal recording of 4K at 50P/60P video is achieved through oversampling the sensor's native 5.9K resolution¹. The EOS C700 FF delivers footage with superior image quality due to lower imaging noise, a wide dynamic range exceeding 15 stops and a color gamut that exceeds the next-generation broadcasting standard ITU-R BT.2020. Accompanying the superior image quality is Canon's Dual Pixel CMOS AF autofocus system that enables the EOS C700 FF to perform high-precision focus adjustment suited to a wide range of shooting styles, even in situations that demand highly accurate focusing.
Supporting more than 70 different EF-series and EF Cinema-series lenses in addition to PL and anamorphic lenses² (EOS C700 FF PL only), the EOS C700 FF and EOS C700 FF PL are versatile film making platforms suitable for shooting a variety of scenes. Combining a full-frame sensor with these lenses that deliver high optical performance, the EOS C700 FF delivers the image quality and versatility that film making professionals demand.
The EOS C700 FF supports recording in both XF-AVC, Canon's proprietary video format that efficiently compresses data, and the highly versatile Apple ProRes³ compression format. In additional to in-camera recording, the EOS C700 FF supports RAW format recordings in 5.9K (5952 x 3140) up to 50P/60P when equipped with the Codex CDX-36150 recorder.
The EOS C700 FF (EF mount) and EOS C700 FF PL (PL mount) will be available in July 2018.
1
The process of generating recorded video using data larger than the recording pixel value.
2
A lens that enables shooting with landscape-orientation compression and makes possible a characteristic blur effect.
3
A video compression format developed by Apple Inc.
​​​​​​​​​​​​​​
About Canon Singapore Pte. Ltd.
Canon is a global leader in photographic and digital imaging solutions. Canon Singapore Pte. Ltd. is the headquarters for South & Southeast Asia driving sales, marketing and service strategies. Besides handling the domestic market, the company covers 22 other countries and regions including subsidiaries in India, Malaysia, Thailand and Vietnam. The parent company Canon Inc. has a global network of more than 300 companies and employs close to 200,000 people worldwide. Canon is guided by its
kyosei
philosophy that focuses on living and working together for the common good.
More information is available at
https://sg.canon
.