Canon Expands Professional 4K Display Lineup with Two New Models Featuring 12G-SDI Terminals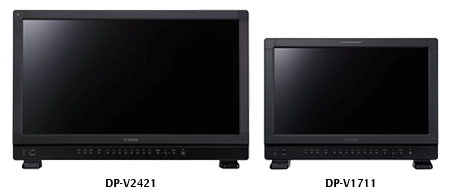 SINGAPORE, 28 March 2018 –
Canon today announced the launch of two new professional 4K reference displays equipped with 12G-SDI terminals: the 24-inch DP-V2421 and the 17-inch DP-V1711.
The new DP-V2421 24-inch 4K professional reference display features a 12G-SDI terminal and delivers high luminance and high contrast, befitting for confirming 4K/HDR¹ content in broadcasting studios and monitoring video footage while shooting on location. The 17-inch DP-V1711 also features a 12G-SDI terminal and 4K high-image-quality performance in a compact design that not only makes it easily portable for on-location shooting, but also ideal for use in environments where space is limited, such as in broadcasting studios and broadcasting vans. By expanding its lineup of reference displays with 12G-SDI terminals, Canon aims to meet the needs of on-location 4K video production environments globally.
Featuring 12G-SDI terminals (four IN and four OUT), the DP-V2421 and DP-V1711 enables the transmission of 4K 50p/60p footage with a single cable, boosting convenience for video crews. Previously, four cables would have been required when using a 4K display equipped with 3G-SDI terminals. By reducing the number of cables, the new 4K reference displays enhances cost, time and space savings.
The DP-V2421 and DP-V1711 supports industry standards² such as the Hybrid Log-Gamma broadcasting HDR standard, and Perceptual Quantization (PQ) HDR standard for video production and distribution. Additionally, the displays also support Canon's proprietary log gammas - Canon Log, Canon Log 2 and Canon Log 3.
For seamless operability, several functions have been included to simplify HDR image confirmation. These include a waveform monitor, which displays the luminance level of input signals and a false color function, which overlays different areas of input images with colors depending on their luminance. With these tools, the displays allow for efficient and accurate confirmation of HDR images.
1
High dynamic range refers to a technique that enhances the contrast between light and dark values (the dynamic range) of an image.
2
The displays support all HDR methods designated by such standards as the ITU-R BT.2100 international HDR standards and SMPTE ST 2084 HDR standards defined by the United States-based Society of Motion Picture and Television Engineers.
​​​​​​​​​​​​​​
About Canon Singapore Pte. Ltd.
Canon is a global leader in photographic and digital imaging solutions. Canon Singapore Pte. Ltd. is the headquarters for South & Southeast Asia driving sales, marketing and service strategies. Besides handling the domestic market, the company covers 22 other countries and regions including subsidiaries in India, Malaysia, Thailand and Vietnam. The parent company Canon Inc. has a global network of more than 300 companies and employs close to 200,000 people worldwide. Canon is guided by its
kyosei
philosophy that focuses on living and working together for the common good.
More information is available at
https://sg.canon
.