Canon Champions the Sports
Canon announces sponsorship of Joseph Schooling and the Singapore Bowling Federation in support of the aspirations and tenacity of local athletes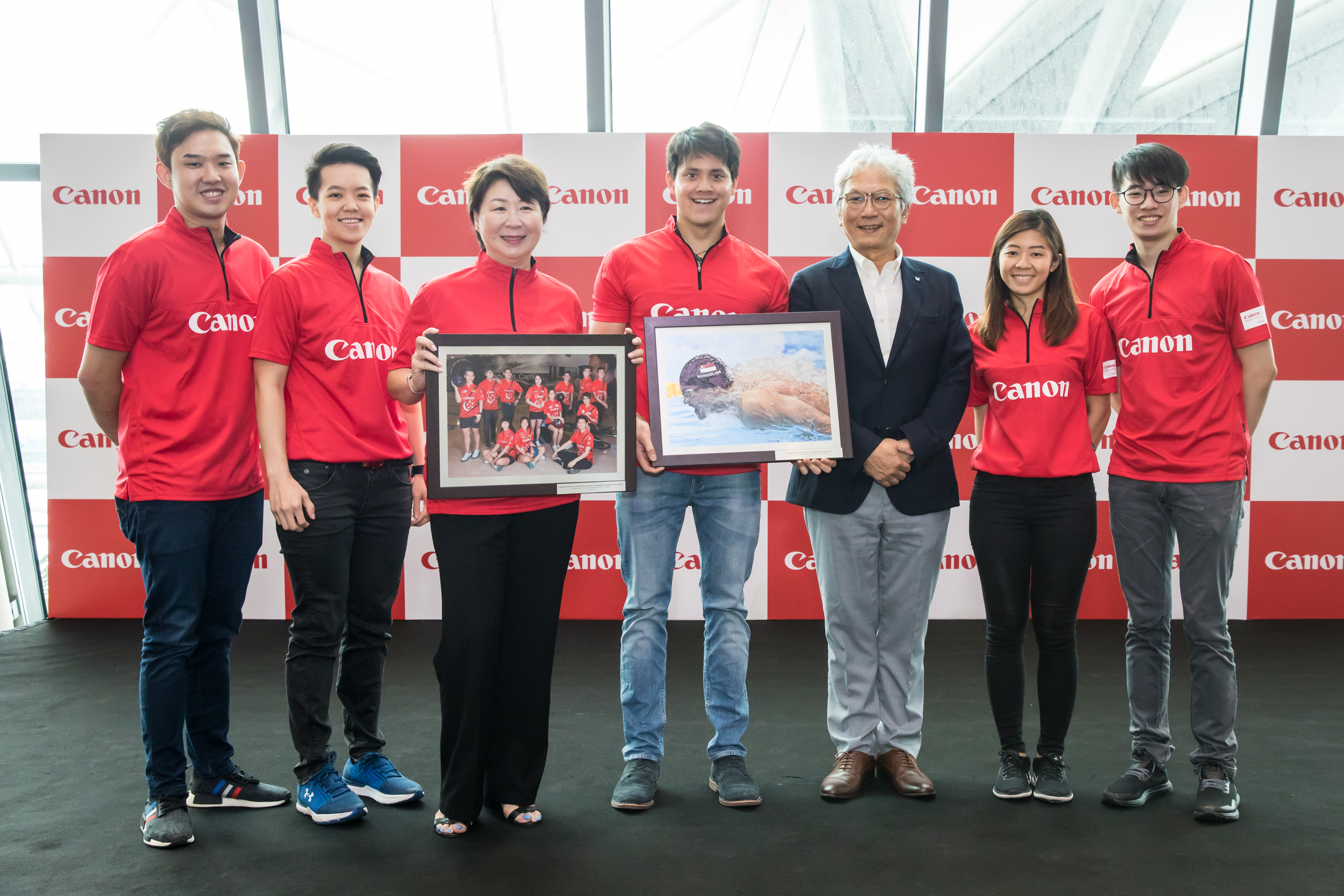 SINGAPORE, 4 July 2018 - Canon today announced two sports sponsorship agreements which will bolster support for Singapore's sporting talents. A new three-year partnership with Singapore's swimming star, Joseph Schooling, will see the Olympic & Asian Games gold medalist, and World Championships bronze medalist as the newest brand ambassador for Canon. Concurrently, Canon is also celebrating its 10th year of partnership with the Singapore Bowling Federation (SingaporeBowling) and renewing its agreement to empower SingaporeBowling to continue grooming outstanding local bowlers.
The partnership with Joseph will span from 2018 to 2021. As a Canon brand ambassador, Joseph will be fronting Canon's marketing campaigns, across print and digital platforms. He will also lend support through appearances at Canon events for deeper engagements with the Canon community network of customers and photography fans.
Colin and May Schooling, parents of Joseph, will also be featured alongside Joseph in Canon's marketing campaigns. Colin is already familiar with some of Canon's enterprise products and services and May has been an avid Canon user for years, capturing Joseph's key moments in his journey to earning his place among the best in in the world.
"Canon has been an active patron of the sports community, and we applaud the discipline and tenacity exhibited by our local athletes. At the same time, sports has a compelling way of weaving closer ties within our local communities," said Mr. Melvyn Ho, Senior Vice President and Head of Singapore Operations, Canon Singapore. "We are excited to renew our partnership with the Singapore Bowling Federation for the 10th year, and warmly welcome Joseph Schooling as our latest brand ambassador. In Joseph, we recognise and admire his vision for excellence and we wish our athletes all the best in the upcoming Asian Games."
"I am very grateful for the immense support I've received since turning professional. Having partnerships with renowned brands like Canon gives me the peace of mind to train hard and focus on my career. Thank you to Canon for giving the local sports fraternity the much needed support," said Mr. Joseph Schooling.
Marking 10 Years of Partnership and a new Chapter
Canon celebrates a decade of partnership with SingaporeBowling this year and will renew its annual agreement as an Official Partner. This renewal highlights Canon's continuing dedication to nurturing young sportspeople in Singapore. Since 2002, SingaporeBowling has earned major accolades in the international bowling arena, including six Asian Games gold medals and 12 SEA Games gold medals.
"To receive the support from a global brand like Canon is an amazing affirmation for SingaporeBowling and our team. The partnership with Canon is not only a boost for our athletes and coaches, it gives our federation the courage to embark on bold and creative initiatives. Canon and SingaporeBowling are proud partners and pioneer trendsetters in promoting the concept of a work-life balance for Corporate Singapore long before it became fashionable!" Said Mrs. Jessie Phua, President, Singapore Bowling Federation.
Celebrating Excellence through the Asian Games 2018
On the regional level, Canon is a sponsor for the 18th Asian Games which will take place in Jakarta and Palembang, Indonesia, from 18 August to 2 September 2018. Canon will be on-site to provide behind-the-scenes technical support, advice and maintenance services of cameras and lenses to members of the media covering the Asian Games 2018. Canon's diverse range of consumer and enterprise products and services will also provide further operational support at the Asian Games.
Both Joseph Schooling and the Singapore National Bowling team will be featured in Canon's Asian Games integrated brand campaign in Singapore across print and digital platforms. The campaign aims to express how Canon celebrates excellence through sportsmanship and brings the unique experience of the triumph, trials and excitement of the Asian Games 2018 even closer to fans across Asia.
Practicing Kyosei through Contribution to Sports
Canon actively pursues the philosophy of kyosei, which means – all people, regardless of race, religion and culture, harmoniously living and working together for the common good. The development of athletes in their quest for further excellence, promotion of sporting activities and an active lifestyle are some of several ways through which Canon expresses kyosei.
About Canon Singapore Pte. Ltd.
Canon is a global leader in photographic and digital imaging solutions. Canon Singapore Pte. Ltd. is the headquarters for South & Southeast Asia driving sales, marketing and service strategies. Besides handling the domestic market, the company covers 22 other countries and regions including subsidiaries in India, Malaysia, Thailand and Vietnam. The parent company Canon Inc. has a global network of more than 300 companies and employs close to 200,000 people worldwide. Canon is guided by its
kyosei
philosophy that focuses on living and working together for the common good.
More information is available at
https://sg.canon
.