Canon Announces 18-inch 4K/HDR Professional Display which Delivers Superior Image Quality Performance
The DP-V1830 features high image quality and accuracy, improved rendition of blacks, wider colour gamut and wider viewing angles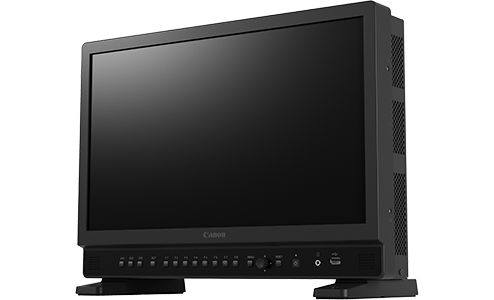 SINGAPORE, 1 December 2021 — Canon announced today the launch of the DP-V1830 4K professional display.

The DP-V1830 features improved core components which includes a high-image-quality display engine, revamped high-resolution algorithms, panels and backlighting system—all of which deliver a significant increase in image quality performance. While satisfying HDR standards1, the display features a compact and lightweight 18-inch body that is ideal for use in confined spaces including broadcast relay vans and sub-control rooms. Through these improvements, along with the versatile 4K high-image-quality performance demanded by professionals in the industry, Canon helps to facilitate an efficient workflow in a wide variety of production environments.

Achieving the industry standard maximum illuminance of 1,000 cd/m2 for white luminance, as well as a significantly improved high-image-quality engine, the display offers more precise control over backlight illumination, improving image quality especially in high-contrast areas between light and dark areas. With these improvements, the ability to express blacks is enhanced. This is a vital part of broadcast and video production, where dark areas and colour gradations can be accurately represented. As a result, high contrast areas between black and brilliant colours can both be displayed accurately, such as scenarios of fireworks against the night sky.

The DP-V1830 realizes a wide colour gamut by utilizing a backlighting system developed in-house by Canon that maximizes the performance of LED, including aspects such as colour and luminance, faithfully recreating the wide colour gamut required by ITU-R BT.20202 recommendations. With Canon's proprietary optical configuration that helps mitigate luminance and colour variations, the angle of view for the display is wide enough to deliver accurate images when several people are viewing the monitor at the same time.

With an 18-inch display and high-luminosity 4K/HDR functionality, the DP-V1830 chassis still maintains a thin width and weighs just approximately 7.5kg. The display can also be installed on 19-inch racks3 compatible with EIA standards4, enabling use in existing broadcast and video production workplaces such as broadcast relay vehicles and sub-control rooms, as well as easy transportation to on-location work sites.


About Canon Singapore Pte. Ltd.
Canon is a global leader in photographic and digital imaging solutions. Canon Singapore Pte. Ltd. is the headquarters for South & Southeast Asia driving sales, marketing and service strategies. Besides handling the domestic market, the company covers 23 other countries and regions including subsidiaries in India, Malaysia, Thailand and Vietnam. The parent company Canon Inc. has a global network of more than 300 companies and employs about 180,000 people worldwide. Canon is guided by its kyosei philosophy that focuses on living and working together for the common good.

More information is available at https://sg.canon.
---
1 Testing performed under conditions specified by Canon, based on "EBU TECH3320 USER REQUIREMENTS FOR VIDEO MONITORS IN TELEVISION PRODUCTION Version4.1" and "Dolby Vision Certified Mastering Facilities Colorgrading Systems and Monitors V1.4".
2 Recommendations specified by UHDTV broadcast signal standards formulated by the International Telecommunication Union (ITU).
3 The Electronic Industries Alliance, an industry organization which standardizes and develops benchmark specifications for products and services including electronic devices and communications.
4 Requires mounting components for installation (sold separately).