Canon Announces the PD-704 Measurement Device Designed For High-Precision Contactless Measurements of Target Object Displacement and Speed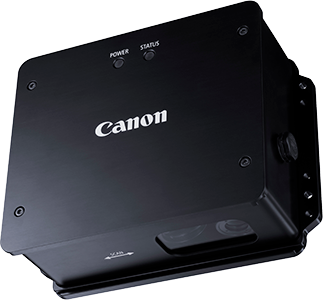 SINGAPORE, 31 August 2021 — Canon Singapore announced today the launch of a new measurement device for making high-precision measurements of products on manufacturing lines - the PD-704 contactless measuring device. The new device utilizes Canon's proprietary profile matching system to perform high-speed measurements of objects moving at up to 100G of acceleration and features a depth detection range of ±15mm.

At manufacturing sites that implement press systems to shape materials via metal molds, problems may occur during the pressing process, such as distance or speed miscalculations when parts like metal coils are moved via the belt inside the pressing device. These types of incidents can lead to defective parts or damage to the metal mold during pressing. The new PD-704 employs an LED light source to perform the contactless calculation of the displacement of targeted objects. The device can track objects moving at up to 100G of acceleration and calculate with high precision the distance moved and the movement speed of the object. This helps support reliable and efficient parts provision with uniform quality, thus contributing to higher output on manufacturing lines.

Profile Matching Method to Perform High-Speed Measurements
The PD-704's contactless measuring system utilizes a profile matching method that works by capturing consecutive images of an object and using these images (profiles) to search for correlations (matches). Based on the differences in position, the system calculates the distance and speed at which the objects have moved. Although the system is contactless, it is capable of tracking moving subjects accelerating as fast as 100G, enabling the detection of distance moved and speed of subjects when manufacturing lines are abruptly halted or drastically sped up. What's more, thanks to an optical system that accommodates vertical shaking of ±15mm, high-precision calculations are ensured even when shaking occurs due to changes in speed.

Contactless Measuring System to Ensure Accuracy and Reduced Downtime
Unlike contact-type measuring devices, the PD-704 is capable of performing measurements without touching the target object. This not only helps prevent staining and damaging of objects during measurement but also avoids potential measuring errors within the device caused by slippage or friction. The potential for downtime resulting from the substitution of measured items of varying thickness is also reduced, and maintenance is easier to perform.

Designed to be Versatile and Durable
The PD-704 uses LED light as its light source for contactless measurement instead of lasers, thus removing the need for safety precautions to protect against laser radiation. In addition, the device is both compact and lightweight with an integrated sensor and signal processing component, making the device easier to install and implement into manufacturing lines. A moisture-proof option can also be installed if required in order to use the device on manufacturing lines where liquids such as water or oil may splash, or dirt and dust may scatter. This option helps the device meet a wide range of needs for manufacturing lines that handle such items as housing construction materials, extrusion molding, iron and steel, and automobile parts, as well as for elevator maintenance and printing press inspection.

Pricing and Availability
The PD-704 contactless measuring device will be available in September 2021.


About Canon Singapore Pte. Ltd.
Canon is a global leader in photographic and digital imaging solutions. Canon Singapore Pte. Ltd. is the headquarters for South & Southeast Asia driving sales, marketing and service strategies. Besides handling the domestic market, the company covers 23 other countries and regions including subsidiaries in India, Malaysia, Thailand and Vietnam. The parent company Canon Inc. has a global network of more than 300 companies and employs about 180,000 people worldwide. Canon is guided by its kyosei philosophy that focuses on living and working together for the common good.

More information is available at https://sg.canon.