Secure and Intuitive Wide Format Printing Solutions with Canon's New ColorWave and PlotWave Series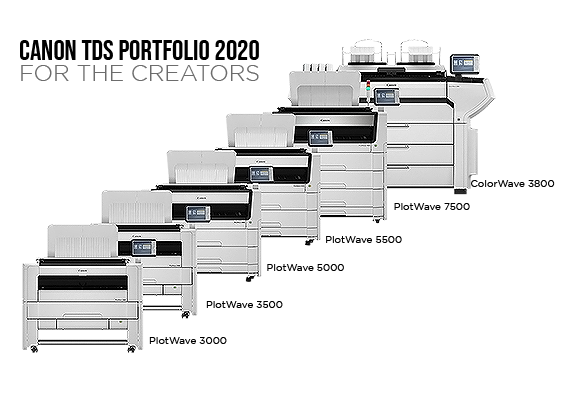 SINGAPORE, 05 October 2020 — Canon today announced the launch of its updated ColorWave and PlotWave wide format printer series. Comprising five monochrome PlotWave models (3000, 3500, 5000, 5500 and 7500) and one ColorWave model (3800), the series has been designed to support and encourage creativity in all organisations at every stage of the design process - from the visualisation of ideas, through the developmental process to final designs. Built on trusted Canon technology, both upgraded series offer enhanced security benefits and improved ease of use. For creators looking to meet tight deadlines, protect their data and print right first time in any office or production environment, ColorWave and PlotWave printers offer the ideal solution.

An End-to-end Solution
Integrating optional finishing and scanning solutions, ColorWave and PlotWave printers now offer an all-in-one solution that makes the automated production of wide format prints easier than ever. With a range of fully compatible stackers and folders, any printer in the series can be configured to meet specific requirements and easily produce finished documents – all on one printer. Users can now upgrade printers without the need to update finishing equipment; they can simply retrofit folders for a complete end-to-end, compact and productive solution.

Compatible with both series are scanning solutions for every requirement – the Scanner Express, which can be integrated on top of the PlotWave and ColorWave printers for walk-up prints, and the Scanner Professional, a stand-alone production scanner for maximum quality and productivity that can be integrated with one or more printers.

From corporate workspaces, to copy shops and production environments, the printers in these series are designed as sustainable, compact and ergonomic solutions to fit any environment, while also operating quietly to minimise distractions.

Technology You Can Trust
From R&D departments printing confidential prototypes, to building sites printing confidential designs for buildings, companies need to be assured that their data is protected. This updated portfolio offers that peace of mind – meeting the highest security standards.

With SMARTshield integrated printing security, the new printer series offers safe submission to protect data and user credentials when users send files to the printer. It provides safe storage, protecting print data from theft or accidental data leakage; authorisation to restrict access to confidential files, and hack prevention which ensures no one from outside the organisation can access the printer's files. Whether print data is in submission, in storage, or being authorised – SMARTshield ensures that it remains secure.

Intuitive and User Friendly
The intuitive new ColorWave and PlotWave interface is easy to use and can be operated by anyone, whether or not a trained operator.

Using ClearConnect software, the printers provide a streamlined workflow for any individual print job or complex multi-file document set. By providing active operator warnings and accurate print previews, the software also enables users to make necessary corrections before printing, and to submit prints with ease, from any location or device.

The POWERsync controller also allows any of the ColorWave and PlotWave series to be easily integrated into a network running uniFLOW technology for secure printing and accounting.

Designed to save time and speed up the design process, Publisher Select, part of the ClearConnect software suite, eliminates misprints and wasted materials with a 'what you see is what you print' preview on your computer desktop. Improving productivity, the software offers dual printer support for ColorWave and PlotWave printers, with the functionality to assign specialised media templates to print jobs or individual files within a multi-file print job.

Steve Ford, Managing Director, Production Printing Asia, Canon, concludes, "Building on the success of the Colorwave and Plotwave series, we are excited to offer our customers the perfect all-in-one solution with our updated portfolio. We understand the importance to our customers, when it comes to data security and getting high quality prints right the first time. The new series brings about an intuitive end-to-end solution, which integrates scanning, printing and finishing, with enhanced ease-of-use and improved security features. Along with our long heritage in the wide format printing market, Canon is dedicated to continuously developing innovative technology to support our customers' evolving needs."


About Canon Singapore Pte. Ltd.
Canon is a global leader in photographic and digital imaging solutions. Canon Singapore Pte. Ltd. is the headquarters for South & Southeast Asia driving sales, marketing and service strategies. Besides handling the domestic market, the company covers 22 other countries and regions including subsidiaries in India, Malaysia, Thailand and Vietnam. The parent company Canon Inc. has a global network of more than 300 companies and employs close to 200,000 people worldwide. Canon is guided by its kyosei philosophy that focuses on living and working together for the common good.

More information is available at https://sg.canon.