Canon Announces the Mount Adapter EF-EOS R 0.71x that Enables Use of EF Lenses on the RF Mount EOS C70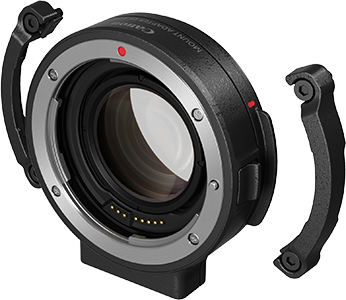 SINGAPORE, 24 September 2020 — Canon announced today the launch in Japan of the Mount Adapter EF-EOS R 0.71x, a lens adapter for the EOS C70, the Cinema EOS system's first RF mount camera model, which enables the camera to use EF series lenses.

Employing a miniaturized optical system, the Mount Adapter EF-EOS R 0.71x allows for video recording using the EOS C70 and EF series lenses1 with an angle of view close to that of the mounted full-frame lens. This allows users to take full advantage of the wide selection of EF series lenses as well as expands the possibilities and flexibility of video production.

The optical system of the Mount Adapter EF-EOS R 0.71x reduces focal length by 0.71x, thus allowing the EOS C70—equipped with a Super-35mm DGO sensor—to record video using EF lenses originally designed for full-frame sensors with an angle of view similar to the original angle of the full-frame lenses. In addition, reducing the size of the optical system gains approximately one extra stop (one lens aperture "f-number") of brightness, thus requiring lower ISO sensitivity. This enables high-image-quality recording with less noise, even in low-light environments such as indoors or at night.

When equipped with EF lenses2 via the Mount Adapter EF-EOS R 0.71x, the EOS C70 digital cinema camera can achieve the same Dual Pixel CMOS AF autofocus functionality across the entire image, just like digital cinema cameras with an EF mount. In addition, the camera can also record and display data such as peripheral illumination correction, effectiveness of lateral chromatic aberration correction, F-number and focal length.


About Canon Singapore Pte. Ltd.
Canon is a global leader in photographic and digital imaging solutions. Canon Singapore Pte. Ltd. is the headquarters for South & Southeast Asia driving sales, marketing and service strategies. Besides handling the domestic market, the company covers 22 other countries and regions including subsidiaries in India, Malaysia, Thailand and Vietnam. The parent company Canon Inc. has a global network of more than 300 companies and employs close to 200,000 people worldwide. Canon is guided by its kyosei philosophy that focuses on living and working together for the common good.

More information is available at https://sg.canon.
---
1 Excluding RF lenses, EF-M lenses and EF-S lenses.
2 As of September 25, 2020, the following lenses are compatible: the EF16-35mm f/2.8L III USM (released in October 2016), the EF24-70mm f/2.8L II USM (released in September 2012), the EF24-105mm f/4L IS II USM (released in November 2016). Canon plans to gradually expand the list of compatible lenses by providing free-of-charge firmware updates. EF lenses are still compatible with the camera, but Canon recommends that firmware updates be installed in order to effectively utilize functions which link the camera and lens.