Canon Launches Professional 4K Camcorder with High Image Quality, Improved AF and Transmission Functionality in A Compact Body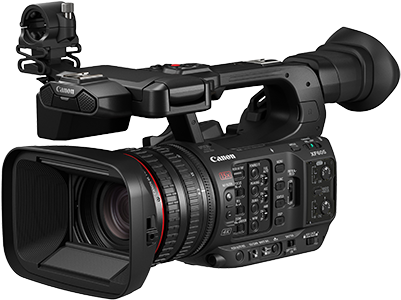 SINGAPORE, 18 August 2021 — Canon announced today the launch of the XF605, a new XF-series professional-use camcorder with a 1.0-inch CMOS sensor and the ability to record 4K/50p/4:2:2/10-bit/HDR video to SD cards. Featuring high-image quality comparable to the XF series flagship model (the XF705 released in November 2018), the XF605 has a compact body for greater portability. The new camcorder also delivers improved AF and transmission functionality, making it ideal for genres such as broadcast journalism and event coverage that demands immediate responsiveness and single-operator shooting styles.

Featuring a L (Luxury) Series lens, a 1.0-inch CMOS sensor and a DIGIC DV7 image processor, the XF605 enables users to capture high-quality 4K/50p/4:2:2/10-bit HDR video. In addition, users also have the option of high-image-quality HDR recording and high-framerate 120 FPS recording in Full HD. Designed to be highly portable while retaining three lens rings for enhanced operability, the new camcorder weighs approximately 600 grams less than the XF705 - more than a 25% reduction in weight - and has a compact body that is about 10% shorter in both length and height.

With Dual Pixel CMOS AF1 technology - an autofocus technology in which each effective pixel on the CMOS sensor can perform both phase-difference autofocusing and imaging functions - the XF605 achieves high-speed and high-accuracy focusing. In addition, the new camcorder is the first XF series model to include eye and head AF, as well as improved face detect AF, enabling more accurate and stable tracking of subjects. The new camcorder also offers more intuitive operation through features such as touch-panel menu operations and a replay mode.

Using the newly released CTM2 mobile app for iOS, the XF605 can connect and transfer recorded video data via cable3 or wirelessly to iOS devices and transfer data to FTP servers at broadcast stations or other locations, thus enabling faster and more efficient workflows for broadcast operations.


About Canon Singapore Pte. Ltd.
Canon is a global leader in photographic and digital imaging solutions. Canon Singapore Pte. Ltd. is the headquarters for South & Southeast Asia driving sales, marketing and service strategies. Besides handling the domestic market, the company covers 23 other countries and regions including subsidiaries in India, Malaysia, Thailand and Vietnam. The parent company Canon Inc. has a global network of more than 300 companies and employs about 180,000 people worldwide. Canon is guided by its kyosei philosophy that focuses on living and working together for the common good.

More information is available at https://sg.canon.
---
1 Focus area is approximately 80% (vertically) x 80% (horizontally).
2 Content Transfer Mobile, a paid application to be released in mid-October 2021. Compatibility will gradually be extended to additional devices.
3 Compatible USB cable (sold separately) required when transferring data via wired connection.