Canon Announces Firmware Upgrade for its DP-V1830 Professional 4K Display
This upgrade will enable efficient 4K/HDR video checking at broadcast stations, video production sites and other on-location workplaces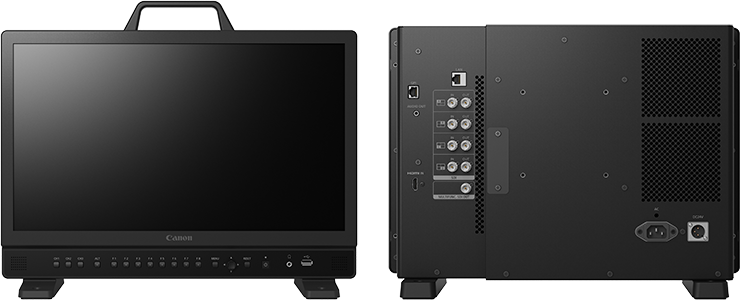 SINGAPORE, 13 April 2022 — Canon announced today that the Company will make available in early July 2022 a free firmware update and a paid version upgrade for its DP-V1830 professional 4K reference display. These upgrades provide additional and expanded functions that help improve workflow efficiency for 4K/HDR (high dynamic range) video checking.

In addition to meeting industry standards for HDR displays1, Canon's DP-V1830 18-inch 4K/HDR professional reference display realises improved expression of blacks, as well as a wider colour gamut and angle of view. The new firmware updates (Both Free and Paid versions) will expand the capabilities for functions such as waveform monitoring for visual signal confirmation and chromaticity diagram, while adding new multi-screen-display functions and output signal switch-out. By adding functions that enable easier checking of video to the high-image-quality 4K video provided by the DP-V1830, this upgrade helps improve production quality and workflow efficiency in a wide range of work settings such as broadcast vans, sub-control rooms at broadcast stations and even on-location sets for film and television recording.

Thanks to newly added functions including a waveform monitor parade mode for checking YRGB signal levels simultaneously and a chromaticity diagram that displays colour information for each pixel, users can visually confirm information for signal level balance and estimated colour gamut.

What's more, the firmware upgrade adds new display functions including Mixed Display of SDI/HDMI that allows viewing of video from SDI and HDMI terminals at the same time, Individual Image Quality Setting for two or four split-screen viewing and Multi Information View that enables viewing of waveform monitor, chromaticity diagram and other information on-screen without overlapping. With these additional functionalities, users can skip dedicated equipment like signal transformers or separate displays, thus contributing to a more compact filming setup and better efficiency for production workflow.

Canon will also provide an additional switch-out function (paid upgrade) that activates the MULTIFUNC.SDI OUT terminal located on the rear of the reference display. This makes possible the selection of the desired 4K/60P video input (from up to four total) connected to the display's SDI input terminal for output from the MULTIFUNC.SDI OUT terminal. With this capability, users working in narrow environments such as sub-control rooms or broadcast vans can output from the DP-V1830 to measuring instruments or other displays without the need for a dedicated switching device.

The free firmware update and paid upgrade will be available from early July 2022.


About Canon Singapore Pte. Ltd.
Canon is a global leader in photographic and digital imaging solutions. Canon Singapore Pte. Ltd. is the headquarters for South & Southeast Asia driving sales, marketing and service strategies. Besides handling the domestic market, the company covers 22 other countries and regions including subsidiaries in India, Malaysia, Thailand and Vietnam. The parent company Canon Inc. has a global network of more than 300 companies and employs about 180,000 people worldwide. Canon is guided by its kyosei philosophy that focuses on living and working together for the common good.

More information is available at https://sg.canon.
---
1 Testing performed under conditions specified by Canon, based on "EBU TECH3320 USER REQUIREMENTS FOR VIDEO MONITORS IN TELEVISION PRODUCTION Version4.1" and "Dolby Vision Certified Mastering Facilities Colour grading Systems and Monitors V1.4".