Canon Expands UHDxs Lineup of High-end Portable Zoom Lenses with the CJ20eX5B,
Designed for 4K Broadcast Cameras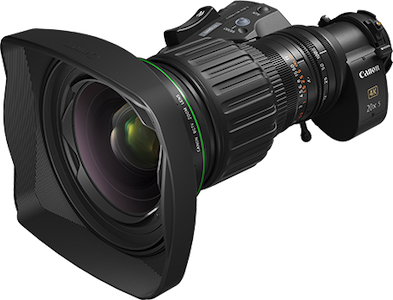 SINGAPORE, 24 September 2020 — Canon announced today the launch in Japan of a new addition to its UHDxs series of portable zoom lenses for 4K broadcast cameras employing 2/3-inch sensors. The CJ20eX5B offers a 20x zoom ratio with a focal length of 5 mm at the wide end while achieving superb 4K optical performance throughout the entire zoom range. Delivering high optical performance, the CJ20eX5B creates immersive and high-quality visual expression of content such as sports broadcasting and programming content filmed on-location. With the addition of this new lens for 4K broadcast cameras, Canon helps support a wide range of user needs.

The CJ20eX5B features a wide-angle focal length of 5 mm—ideal for capturing expansive scenes including full stadium views—while also providing a 20x zoom ratio that accommodates a range of frequently used focal lengths up to 100 mm. On top of this, the lens is equipped with a built-in 2x extender that enables users to quickly double the focal length up to 200 mm while preserving fine visual details.

While delivering 4K optical performance, the CJ20eX5B achieves a compact and lightweight design comparable to HD camera lenses, weighing only approximately 2.24 kg1 and measuring approximately 166.3 mm (W) x 110.8 mm (H) x 251.7 mm (D). As such, the lens maintains the high levels of maneuverability required while reducing operation stress during production.

The CJ20eX5B utilizes fluorite, UD and super UD lens2 elements, all optimally arranged in a proprietary optical configuration. This allows for excellent suppression of chromatic aberrations such as color bleeding and fringing to achieve excellent image quality all the way to the peripheral areas of the image.

About Canon Singapore Pte. Ltd.
Canon is a global leader in photographic and digital imaging solutions. Canon Singapore Pte. Ltd. is the headquarters for South & Southeast Asia driving sales, marketing and service strategies. Besides handling the domestic market, the company covers 22 other countries and regions including subsidiaries in India, Malaysia, Thailand and Vietnam. The parent company Canon Inc. has a global network of more than 300 companies and employs close to 200,000 people worldwide. Canon is guided by its kyosei philosophy that focuses on living and working together for the common good.

More information is available at https://sg.canon.
---
1 For the CJ20eX5B IASE S. The CJ20eX5B IRSE S weighs approximately 2.16 kg. The CJ20eX5B IASE S is equipped with a focus servo motor, while the CJ20eX5B IRSE S is not.
2 A lens element utilizing ultra-low dispersion (UD) glass. Super UD lenses realize further improvements in performance over UD lenses.