Canon Expands Lineup of Ultra High Resolution 8K Broadcast Camera Lenses with The 10×16 KAS S Portable Zoom Lens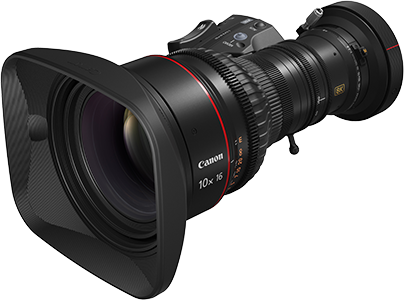 SINGAPORE, 18 August 2021 — Canon announced today the launch of the 10×16 KAS S, a new portable zoom lens for 8K broadcast cameras employing a 1.25-inch type sensor.

Developed through the union of Canon's optical technologies, this new portable zoom lens is designed for 8K broadcast cameras. There has been growing demand in recent years for high-resolution video production, especially in such fields as international sports event broadcasting and documentary filmmaking. With the release of the 10×16 KAS S, Canon helps meet the need for increasingly high resolution by expanding its lineup of ultra-high resolution 8K portable zoom lenses.

Equipped with such lens elements as fluorite, UD lenses1, Hi-UD lenses2 and wide-diameter aspherical lenses, the 10×16 KAS S helps reduce chromatic aberrations, spherical aberrations and other effects that reduces image quality. In addition, Canon has used its optical simulation technologies acquired through its history to determine the ideal placement of lens elements, as well as high-precision manufacturing operations and assembly technologies that greatly reduce manufacturing errors. This means that throughout the entire zoom range of the lens, there is extremely high image quality from the center to the edge of the frame, enabling capture of high-resolution and high-contrast images required of 8K content.

The 10×16 KAS S maintains a fast aperture of f/2.8 across the entire zoom range, which spans 16mm at the wide end to 160mm at the telephoto end. This 10x zoom magnification and bright aperture make the lens ideal for events such as sports and live broadcasting, which often involve frequent changes in focal length, to provide immersive and high-resolution imagery with incredible visual expression.

The 10×16 KAS S also employs a high-performance digital drive unit utilized by the high-resolution 16-bit absolute value encoder digital drive unit. This drive unit has a proven record of use in 2/3-inch 4K broadcast zoom lenses. This allows for high-precision position detection and enables easy completion of calibration that is required when handling both real and virtual images. Thanks to these features, the new lens ensures high operability for on-location visual production as well as extremely easy integration into high end broadcast infrastructure that is already in the market.


About Canon Singapore Pte. Ltd.
Canon is a global leader in photographic and digital imaging solutions. Canon Singapore Pte. Ltd. is the headquarters for South & Southeast Asia driving sales, marketing and service strategies. Besides handling the domestic market, the company covers 23 other countries and regions including subsidiaries in India, Malaysia, Thailand and Vietnam. The parent company Canon Inc. has a global network of more than 300 companies and employs about 180,000 people worldwide. Canon is guided by its kyosei philosophy that focuses on living and working together for the common good.

More information is available at https://sg.canon.
---
1 A lens element utilizing ultra-low dispersion (UD) glass.
2 Hi-UD lenses realize further improvements in performance over UD lenses.