Canon Veteran Andrew Koh Returns to Head Singapore Operations After 9 Years Abroad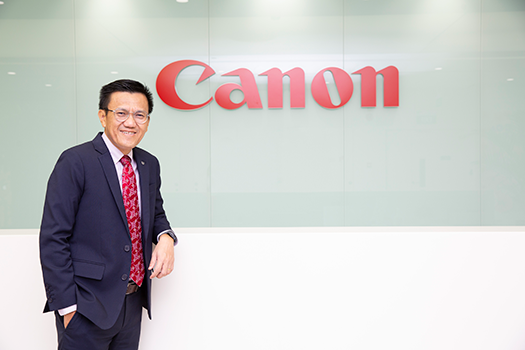 SINGAPORE, 31 March 2022 — Canon Singapore Pte. Ltd. (Canon Singapore) today announced Andrew Koh has been appointed the Head of Singapore Operations Group, with effect from January 2022.

Andrew started his career with Canon in Singapore in 1997 and has since held key positions in various overseas offices. He will be leading sales, marketing, and service operations across consumer and enterprise segments as Head of Singapore Operations Group.

He was most recently the President and CEO of Canon Marketing Malaysia, and notable achievements include maintaining Canon's streak as the number 1 laser printer brand for 7 consecutive years since 2015 and the number 1 inkjet printer brand for 26 consecutive years since 1996. Another key achievement under his helm, was garnering top market share for the units of cameras sold since 2016. Under his leadership, Canon Marketing Malaysia was awarded the Sustainability & CSR Malaysia Awards in 2021, for their greatly strengthened and reinforced CSR programme.

Prior to that he was with Canon India as Vice President of Consumer Imaging and Information Centre. In that role he sparked renewed growth for sales and was effective in formulating future marketing strategies in line with the company's vision. He was also instrumental in overseeing the rapid expansion of Image Square, Canon's concept experience store, from 100 to 200 stores, during his time at Canon India.

Andrew brings with him over 25 years of industry experience and will focus on developing innovative solutions that build upon Canon's existing offerings while refreshing the brand image to navigate an ever-changing market.

"It feels great to be back in Singapore and I am excited to help steer Canon towards greater success during these challenging times. While the pandemic poses new challenges for businesses, it has also created new opportunities for growth and innovation. I look forward to working with all my colleagues, our partners, and customers to help the company achieve its full potential of delivering truly innovative services and solutions to market." said Andrew Koh, Head of Singapore Operations Group, Canon Singapore.


About Canon Singapore Pte. Ltd.
Canon is a global leader in photographic and digital imaging solutions. Canon Singapore Pte. Ltd. is the headquarters for South & Southeast Asia driving sales, marketing and service strategies. Besides handling the domestic market, the company covers 22 other countries and regions including subsidiaries in India, Malaysia, Thailand and Vietnam. The parent company Canon Inc. has a global network of more than 300 companies and employs about 180,000 people worldwide. Canon is guided by its kyosei philosophy that focuses on living and working together for the common good.

More information is available at https://sg.canon.